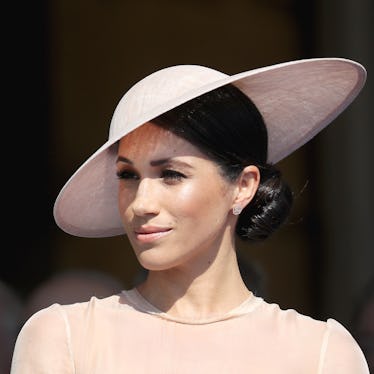 Meghan Markle Uses This Surprising $5 Drugstore Beauty Item Instead Of Highlighter
Chris Jackson/Getty Images Entertainment/Getty Images
Even duchesses like a good bargain deal, apparently. Meghan Markle theoretically has every beauty product in the world at her fingertips, and yet she's been known to favor a particularly accessible item. It's been reported that Meghan Markle's makeup artist uses Aquaphor on her cheekbones to give them a beautiful, dewy glow.
Long before the days of Rihanna's Fenty highlighters and Kim Kardashian's Ultralight Beam kits, a gal had to DIY her own shimmery cheeks. Or, in Markle's case, rely on a makeup artist for some highlighter life hacks. Daniel Martin is a Dior Brand Ambassador, Honest Beauty Creative Color Consultant, and celebrity makeup artist. You may recognize his work from May 19, 2018, you know, the day Markle married Prince Harry. Yup, Martin is Markle's longtime makeup artist and he did her makeup for the royal wedding.
As you can tell with most of Markle's beauty looks, as well as on Martin's other clients (Priyanka Chopra, Elizabeth Moss, and Jessica Alba, to name a few), the cosmetics pro is a fan of a less is more approach. Martin doesn't like to cover up too much, but more often chooses to enhance a client's natural assets. Along those lines, Martin recently revealed a surprising drugstore product that he favors: Aquaphor!
In addition to being commissioned for Markle's wedding, Martin still works in the New York beauty scene. At a recent industry event, he spoke with E! News about his highlighter trick,
A lot of my highlighting is done with skin-care. Before highlighters, you would do highlighting with Aquaphor. Aquaphor will give you that same texture, especially in a photo [when applied] on the high points of the face.
In the above photo from 2009, Markle looks to be potentially wearing Martin's secret weapon of Aquaphor.
This 2013 photo of Markle also has her cheeks looking rather dewy, probably due to that $5 bottle of Aquaphor. Oh yeah, Aquaphor is affordable AF. Aquaphor Healing Ointment Tube 1.75oz ($5; target.com) is a good option to keep at home, and the Aquaphor On-the-Go Pack ($5; target.com) has two smaller tubes to keep in your purse. You can also find these products at most drugstores.
Martin admits he doesn't use Aquaphor as much now as he used to, but that he has other favorite products of the moment. He revealed to E! News that for an actual highlighter, he favors Dior Backstage Glow Face Palette ($45; sephora.com), but that he also layers Honest Beauty Magic Balm ($13; honestbeauty.com) on top. Martin says he uses the highlighter first and then applies the balm on top, "It intensifies the highlight, but because of the texture of the magic balm it gives you that luminosity like you just applied moisturizer." The takeaway here is to use both a highlighter and a balm (Aquaphor or otherwise) for an extra layer of glow.
Martin and Markle aren't the only ones who use it as a highlighter hack. Zendaya uses Aquaphor, too! Zendaya actually does it in the reverse order as Martin, though. "I dab Aquaphor where I want my highlight to be, then I put my highlighter on top and boom!" said the actress. Both Zendaya and Markle have enviable cheekbone glows, though, so I'd say you can try out this easy trick either way and your glow will be fresh AF.