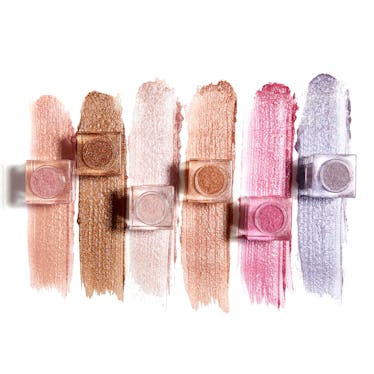 KKW Beauty Ultralight Beams Are Coming Back Better Than Ever With 3 New Shades, So RIP My Money
I eat up every new KKW Beauty launch like I eat up a brownie anyone puts in front of me. I can't help it, sue me. So naturally, when I caught wind that one of my favorite KKW products is coming back and is better than ever, I squealed like a little girl who just got a new Barbie, subsequently scaring and annoying everyone around me (sorry not sorry). The product in question? KKW Beauty's new Ultralight Beams. Yes, the collection is making a comeback with three new shades and, of course, three fan-favorite OG shades. No, you can't have them, because I'm gonna buy them all.
Just kidding, I can't afford that, LOL. But anyway, back to the Ultralight Beams. As any KKW Beauty fanatic knows, Kim K's Ultralight Beams collection originally consisted of the Ultralight Beams Gloss and the Ultralight Beams Loose Powder. Just as it sounds, the loose powder is a super fine, super glittery highlighting powder, and was originally available in three shades: "Rose Gold" (self-explanatory), "Bronze" (also self-explanatory), and Iridescent (an "opalescent pearl" shade that reflects a ton of light, giving off a slightly rainbow appearance). The OG Glosses, used alone or atop your numero uno lippie, were available in the same shades.
Now, Kim is truly blessing us all with a brand new Ultralight Beams launch, coming at you on Friday, Aug. 31, 2018, at 12 p.m. PT. This new launch features three — count 'em — three new shades that I low-key just want to mix together and roll my whole body around in.
The new hues for both the loose powders and the glosses are Pink, Peach, and Lavender, all shimmering, opalescent, and dreamier than you could ever imagine. Luckily, KKW Beauty is offering up a few different ways to get your hands on these sparkly steals come launch day.
For anyone who lacks any sort of impulse control like me and needs the full collection (new and old shades, glosses and loose powders) stat, you'll want to cop the Ultralight Beams Full Collection Bundle ($160, kkwbeauty.com) come Aug. 31.
However, if you're a fan of glosses over loose powders or vice versa, Kim's offering full bundles for both as well.
Aaaaaand, of course, if only one color has you wanting to tattoo its shade name on your body, but you think you can live without the other colors (who r u???) (kidding, but not), then KKW Beauty is also offering single shade Ultralight Beams Duos ($32, kkwbeauty.com), with one gloss and one powder each.
As for why Kim K decided to resurrect this collection? To put it bluntly, because it's freaking dope. "The original Ultralight Beams were so much fun to use and wear so we're bringing them back, plus more!" Kim said via a press release. "We added three new shades in Pink, Peach and Lavender to diversify the collection. I can't wait to create new looks with the complete collection!"
As with any KKW Beauty product, come Aug. 31, at 12 p.m. PT, the full Ultralight Beams collection will be ready for you to eat it up on kkwbeauty.com. Until then, you can head to the site now and enter your email to be notified the second these babies become available. Get ready to glow-up, friends.