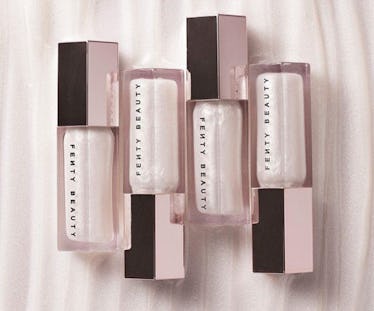 Fenty Beauty's Anniversary Collection Will Have You Shining Bright Like A Diamond
Believe it or not, with summer wrapping up, holiday season is just around the corner. And lucky for us, queen Rihanna seems to be in quite the gift-giving mood! To celebrate the first anniversary of the launch of her eponymous cosmetics line, the singer will be releasing a Fenty Beauty anniversary collection with two new products that are so good, they will literally make you shine as bright as a diamond — talk about a glow up!
On Aug. 31, Fenty Beauty announced on Instagram that the brand's lipgloss would be coming in a brand new shade called Diamond Milk Gloss Bomb ($18, Sephora) that it described as "a shimmery wash of pearl that's like a dewy highlight for your lips!" The second product, in true Rihanna style, of course, is the Diamond Bomb All-Over Diamond Veil Highlighter ($38, Sephora) that Fenty said "gives you a colorless, ultra sparkly sheen that looks beautiful applied as a highlighter on the face or on the body." The retailer even suggested using it as a winter Body Lava, which, honestly, is not a bad idea at all.
As per usual, these products will be available at fentybeauty.com, as well as in-store and online at Sephora and Harvey Nichols in the U.K. starting on Sept. 7 — one day before Fenty Beauty's one-year anniversary.
"I am obsessed with Gloss Bomb. I created Diamond Milk because I wanted a color that was like a dewy highlight for your lips," Rihanna said in a statement, as reported by Vogue UK. "It gives you that juicy luscious effect and looks good on everyone."
As for the highlighter, Rihanna shared, "You can never have enough diamonds! This is the closest thing to bathing in it. The sparkle in this is just insane!"
This isn't the first time we've seen the Grammy winner's love for jewels intersect with her beauty line. At the beginning of August, Rih announced that she would be releasing the Diamond Ball-Out Highlighter to benefit her non-profit, the Clara Lionel Foundation (CLF) — a cause that's near and dear to her heart. Founded in 2012, the CLF works to fund groundbreaking education, health, and emergency response programs for people around the world.
"This very special silver Killawatt takes highlight to a whole other level," the 30-year-old said in a statement at the time. "It will have you glowing like never before because whenever you wear it, you're supporting children and other people in need all around the world."
However, as far as this new anniversary collection goes, Fenty Beauty fans — new and old — are as excited as ever, and can't wait to get their hands on the new products. "I just grew to love gloss bomb and now they throwing something new at me my heart can't take this," one person said about the lipgloss on Instagram, while another person boldly stated, "Omg i gotta sell my kidney for this," in regard to the new Diamond Bomb Highlighter.
Both of these products look so damn good on a variety of skin tones, so I'm sure the hype will not be dying down anytime soon. Seriously, what did we do to deserve Rihanna?