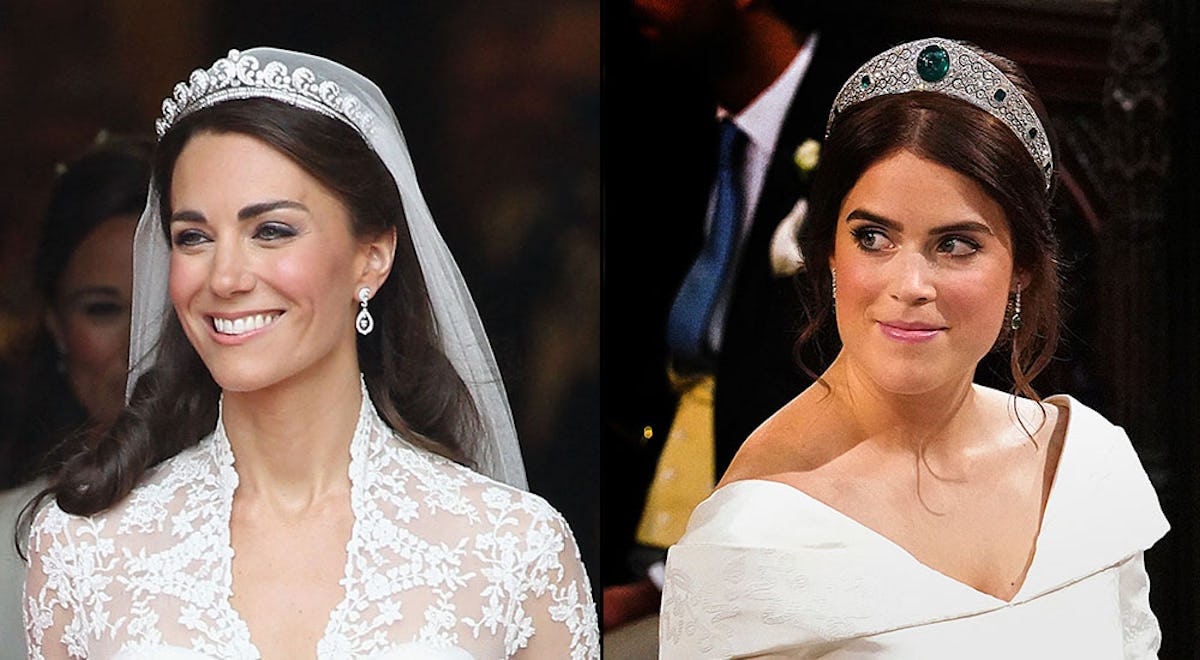 Princess Eugenie's Wedding Hair Is The Total Opposite of Kate Middleton's, But Both Were Stunning
Chris Jackson/Getty Images Entertainment/Getty Images; WPA Pool/Getty Images Entertainment/Getty Images
Now that I'm finally done obsessing over how gorgeous Princess Eugenie looked in her wedding dress, I can turn my attention to the beauty-based elements of her look, like her hair and makeup. I'm also pretty interested in comparing Princess Eugenie's wedding hair vs Kate Middleton's own bridal look, since Middleton and Meghan Markle had such different looks on their big days, and Princess Eugenie definitely went the Markle route, opting for an updo. Not to mention, Princess Eugenie's hair ~lewk~ left out one major royal accessory, and — even though, believe me, she looked breathtaking — I'm completely shocked she chose to go without.
At the end of the day, both women had truly gorgeous wedding looks, but it does interest me to see how differently two royal brides can choose to style their hair. Before I dive into Eugenie's look, let's start with a trip down memory lane and revisit Kate Middleton's bridal hair from way back in 2011. Prior to her wedding day, Middleton was rarely spotted with her hair up, so even though a bridal updo is a popular choice, the public was hardly surprised to see her wear her hair down on the big day.
Of course, she looked gorgeous as usual, hair down and all:
Kate kept almost all of her mid-length brunette hair down, sporting a half-up, side-parted style with curled ends, complete with the blinding Cartier Halo Tiara as the finishing touch to the look:
Kate's usual stylist, James Pryce from the Richard Ward salon, was responsible for making sure her hair was wedding-day ready. Keep in mind that although Middleton often wears her hair down, she and Pryce consistently keep it looking polished and refined. Basically, I've never seen her look like she didn't just leave Drybar with a fresh blowout.
Even before she was a royal, Middleton had the whole "princess hair" thing down pat. She did her own makeup at her wedding, so I wonder if she knows the secret to the perfect at-home blowout, too? I'm betting she does, based off this photo from 2008:
And even now, in 2018, her hair is consistently bouncy, shiny, and stunning, at virtually all times. How do you do it, Kate? Please teach me your hair goddess ways:
While Middleton's hair is almost always worn down, Princess Eugenie often switches between an updo and a fresh, just-blown-out look. When she's wearing one of her signature statement hats, she tends to keep her tresses tied back in a simple, low bun.
For Princess Eugenie, the focus is the hat, not the hair. Exhibit A:
While Middleton's strands are basically one length, Princess Eugenie has a shorter, more layered cut, complete with sideswept bangs. When she wears her hair down, she tends to keep it simple, letting said layers and natural texture do the work and opting for neither a super curly nor stick-straight look.
Typically, Princess Eugenie's standard blowout looks like this:
However, I'm a personal fan of the curls she rocked in her engagement photos with then-fiancé Jack Brooksbank:
As for her actual wedding day? Eugenie went with her signature "bun-and-headpiece" combo, except, instead of a hat, she rocked a truly breathtaking tiara encrusted with emerald jewels, along with matching emerald earrings.
And 👏 she 👏 looked 👏 amazing:
The "Greville Emerald Kokoshnik Tiara," according to PEOPLE, is part of the queen's collection, lent to her granddaughter for the wedding day. It features brilliant- and rose-cut diamonds pavé set in platinum, along with those eye-catching emeralds. They really bring out the green in Eugenie's eyes, so it's a total match made in heaven. Kate and Meghan's tiaras had only diamonds (only diamonds, can you imagine?) and no colored jewels, so Eugenie's emerald headpiece made an extra-special statement.
Along with the tiara, Princess Eugenie had her own take on the Meghan Markle messy bun, featuring a large, low knot of curls and a few wavy tendrils left to frame her face:
According to PEOPLE, the chignon was the work of hairstylist Sonny-Jo MacFarlane of Hari's, a London-based salon. Between the jewels and the updo, Princess Eugenie was able to forgo a veil altogether.
With a tiara so major, a super slick, pulled-back look might have come off as too severe, and a massive veil too dramatic, so Eugenie's choice to keep things soft and ethereal resulted in the perfect dreamy updo:
After rumors circulated days before the wedding speculating that Eugenie had dyed her hair super red for the ceremony, I'm glad to see her auburn brown locks looking as great as they always do. As someone who tends to wear her hair down at all times, I've always related to Middleton the most on the royal hair spectrum, but I've got to give Eugenie props for this beautiful wedding day look!