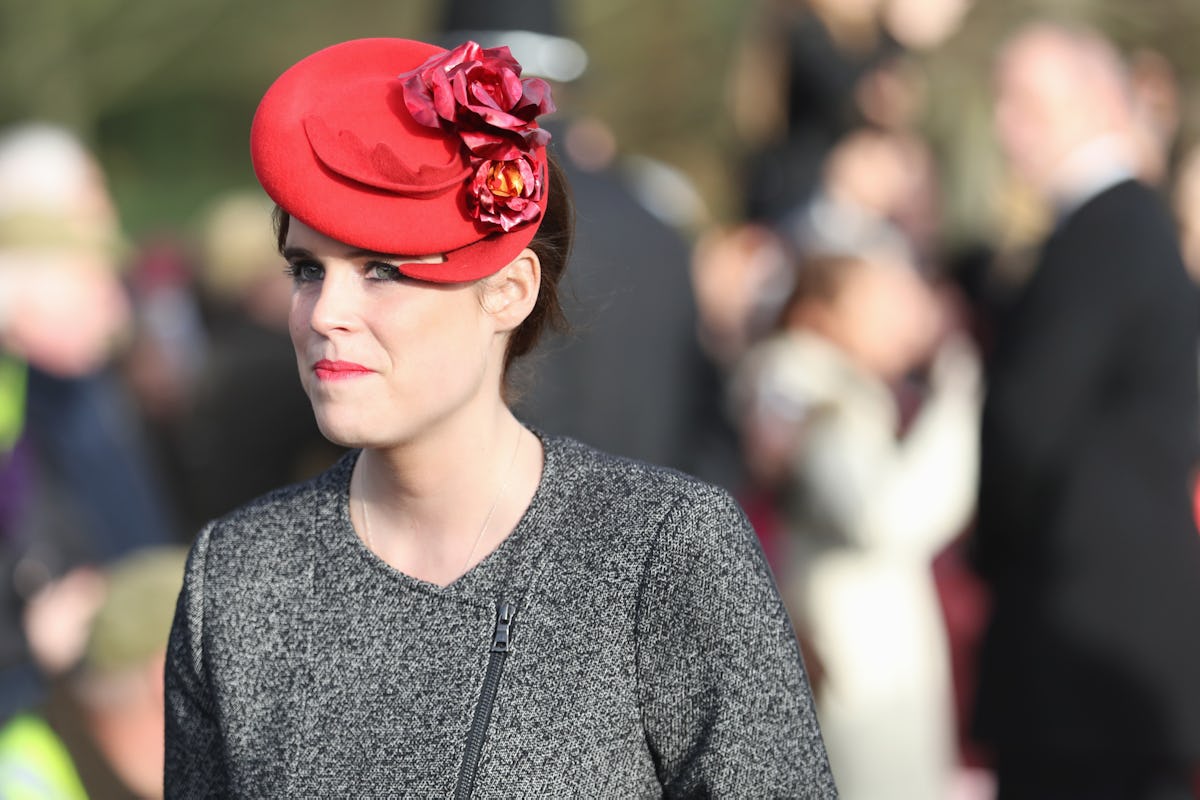 Princess Eugenie Made A Major Hair Change Apparently, Just Days Before Her Wedding
Chris Jackson/Getty Images Entertainment/Getty Images
After months of anticipation, Princess Eugenie's royal wedding day is less than 24 hours away, and just when I think we're finally going to get some answers, I've found myself with about a million new questions. Why, you ask? Oh, no reason, other than the fact that I'm only just now learning that Princess Eugenie dyed her hair red, apparently, days before she's meant to walk down the aisle. Who makes such a major hair change before such an important day — especially knowing that said important day will be broadcasted to millions of viewers? I'm definitely surprised, but TBH, I already know Eugenie can pull off anything, so I guess I should just be excited she's going to be gracing us with a new ~lewk~ during the ceremony.
Princess Eugenie's hair is typically an auburn brown shade, and can appear more brown- or red-toned, depending on the season and the lighting. There have been times where I've wondered, "Did she go a touch lighter?" only to then see another photo where I can clearly confirm she hasn't strayed from her natural shade. This time around, though, the pics don't seem to lie — Princess Eugenie has apparently gone pretty red. So if you thought Prince Harry was the only ginger you'd see in a royal wedding, think again.
You'll have to head over to Express to see the photos, but they seem to show Eugenie post-royal makeover. Her hair appears far more red than its previous auburn-brown shade, and it honestly, it looks as if she's maybe had a good spray tan, too.
If you're wondering what her hair usually looks like, this photo is a pretty good reference:
It's definitely brown, but there's some undeniable auburn highlights.
This the reddest I've ever seen Princess Eugenie's hair look in the past, when the summer sun had likely emphasized her natural auburn tones:
The above photo looks the closest to the statement red strands Express spotted Eugenie sporting this week, though her new look seems a bit brighter. Don't get me wrong, she hasn't gone full fire-engine red.
Keep in mind that Princess Eugenie's mother, Sarah Ferguson, Duchess of York, is well-known for her naturally red locks, so perhaps her daughter was trying to channel a similar vibe for her wedding day look:
Out of Ferguson's two daughters, Princess Eugenie has always tended to keep her locks darker than those of her sister, Princess Beatrice, so the choice to go lighter and brighter is definitely a statement:
Every bride wants to stand out on her wedding day, and even though I'm sure her royal status, the mysterious designer dream dress, and a glittery tiara were all more than enough to ensure all eyes would be on Princess Eugenie, it seems she's decided to up the ante and give us a hair change to Ooh and Aww over, too. Eugenie has never shied away from a style moment, so I'm sure she knows exactly what she's doing with her latest appearance change, and I can't wait to see how beautiful she looks walking down the aisle as a redhead.