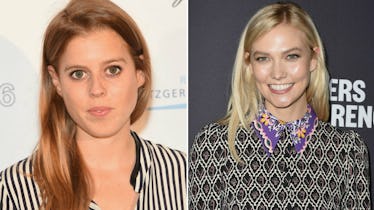 Karlie Kloss May Have Accidentally Revealed Princess Beatrice's Secret Instagram To The World
Jamie McCarthy/Getty Images Entertainment/Getty Images | Vivien Killilea/Getty Images Entertainment/Getty Images
When you're part of the royal family, sometimes absolute secrecy is required — especially if you're looking to get in on the social media game, as Princess Beatrice of York seems keen to do. Unfortunately for Beatrice, her friend Karlie Kloss may have just exposed her very top secret Instagram account to the world. And royal enthusiasts are more than intrigued by the revelation. Princess Beatrice's secret Instagram was apparently accidentally revealed to the masses when the newly-engaged Kloss screen grabbed her calls to family and friends and shared them on social media.
This whole debacle started when Kloss decided to share her new and exciting engagement news with those close to her. She called each and every one of her closest friends, shared the news, showed off her ring, and then screen grabbed the moment the big reveal happened.
In Princess Beatrice's case, though, Kloss seems to have accidentally tagged her royal friend's private Instagram account, thus revealing to the world that the Princess is active on the social media platform secretly. So, what is Beatrice's account? Simple: @beayork.
A quick visit to the account yields almost no information. The account is set to private and she's only got 651 followers. Small follower count aside, Beatrice's photo appears in the icon and the tag from Kloss makes it seem like it's the real deal.
Here's what Kloss shared via her Instagram Story on Tuesday, July 24:
And here's a glimpse at Beatrice's possible private account:
Beatrice is, of course, Prince Harry, Duke of Sussex's cousin, making her Meghan Markle, Duchess of Sussex's cousin-in-law. And now that it's been revealed that she might have a private social media account, there's only one question on everyone's minds: Do other members of the royal family have private accounts as well?
It's well-known that the public social media account for people like Prince William and Kate Middleton, the Duke and Duchess of Cambridge, Prince Harry, and Meghan are all wrapped into one: @KensingtonRoyal. Queen Elizabeth II has her very own handle, @RoyalFamily.
As for their private accounts, which many of them reportedly have, The Cut provided some insight into how it all works back in May 2018. According to The Cut's pre-royal wedding report, Queen Elizabeth, Prince Harry, and Kate allegedly have private social media accounts. There's even mention of Princess Beatrice having a private Instagram account in that report, so it's likely that the one Kloss exposed in her Instagram story is legit!
Unfortunately, Meghan doesn't have her own private accounts as far as anyone knows. Prior to marrying into the royal family, the new Duchess of Sussex had to ditch her social media accounts as well as her lifestyle blog. And that's not entirely surprising, especially since the royals are very particular about what information reaches the public's eyes and ears.
What is surprising, though, is that Harry allegedly has his own social media accounts. In October 2017, the Duke of Sussex famously criticized social media during a visit to Denmark.
"People are spending far too much time online and it's like a mental running machine that they can't get off. You wouldn't put your body through such a workout," he said. "I'm the last person to say ban it but people are suffering from mental fatigue and getting burnt out. We all need to talk to each other more."
Does that mean Harry barely uses his private social media accounts? Bummer. At least Beatrice seems pretty active on hers!