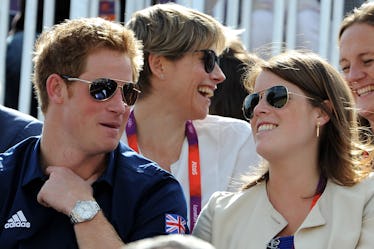 Here's Exactly How Princess Eugenie Is Related To Prince Harry
Pascal Le Segretain/Getty Images Sport/Getty Images
Everybody knows that Princess Eugenie is part of the royal family. And most people are aware that she's Queen Elizabeth's granddaughter. But beyond that, how is she related to the rest of the royals? And more specifically, how is Princess Eugenie related to Prince Harry? That's actually a really simple question to answer!
Eugenie is the daughter of Prince Andrew, Duke of York, and Sarah Ferguson, Duchess of York. Andrew is the youngest son of Queen Elizabeth. She has four kids total: Charles, Prince of Wales, Anne, Princess Royal, Prince Edward, Earl of Wessex, and, of course, Prince Andrew, Duke of York. All that really means is that Eugenie the Queen's granddaughter. And that, of course, also means Eugenie is Prince Harry's first cousin.
So, Eugenie and Harry are pretty closely related. The two royals basically grew up together and have shared a number of sweet moments together in public. Based on those public outings, they seem to get along just great!
With all that mind, you can probably count on seeing Harry and his lovely wife, Meghan Markle, at Eugenie's wedding. Speaking of the wedding, Eugenie is set to exchange vows with her longtime partner Jack Brooksbank on Oct. 12. And the whole affair is expected to be quite extravagant.
Here's a look at Eugenie and Harry together:
Not only have Eugenie and Brooksbank invited 1,200 members of the public to their ceremony, but they're also expected to have an open-carriage procession. If that sounds a lot like Harry and Meghan's wedding to you, then you'd be right. Eugenie and Brooksbank's wedding will basically be a carbon copy of Harry and Meghan's wedding. Much like the Duke and Duchess of Sussex, Eugenie and Brooksbank will be tying the knot at St. George's Chapel at Windsor Castle.
As exciting as all that sounds, not everyone is thrilled about having yet another royal wedding this year. Unfortunately for Eugenie and Brooksbank, some members of the public are a bit miffed that taxpayers will be footing a huge chunk of the wedding costs.
In a new report from Sky News, Labour MP Chris Williamson spoke about why he and so many others aren't willing to accept a huge royal wedding on taxpayer money.
"Prince Andrew — who is fabulously wealthy with an estimated worth of £65 million — should foot the bill himself," Williamson said.
The money from taxpayers will reportedly be going to police officers who put in extra hours to cover Eugenie's open-carriage procession. All told, the total cost of extra security will be approximately 2 million pounds. Williamson apparently finds that number unacceptable.
He isn't alone in his sentiments, though. Over 30,00 people signed a petition requesting that the royal family foot the bill for Eugenie's wedding, so they don't have to.
So far, it still looks like the taxpayers will be shelling out the cash to cover the wedding. Hopefully, Eugenie's big day won't be ruined by the growing bitterness of the public. She deserves a happy wedding day, too!