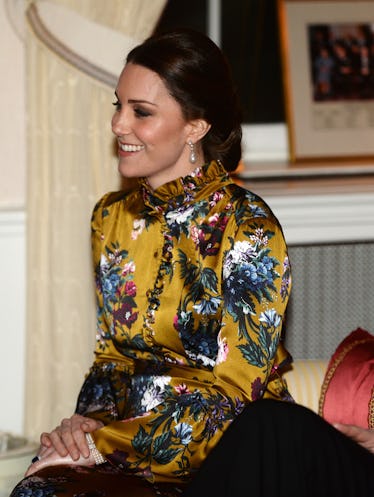 Kate Middleton Secretly Donated Her Long Hair To Charity & My Heart Can't Take It
Pool/Getty Images Entertainment/Getty Images
The British royal family has been in the news a lot lately, but it's mostly about engagements and upcoming weddings. One royal is reclaiming what I believe to be her rightful spotlight, though: Kate Middleton donated her hair to charity and proved that she is true #goals.
Lately, when I think of the British royal family, Prince Harry and Meghan Markle's engagement comes to mind. Markle has been taking London by storm with her messy hairstyles and legitimately affordable clothing, and I'm counting down the days to her wedding to Prince Harry as if it were my own. Middleton's place in the spotlight has been obscured a bit ever since Markle came into the picture, but the Duchess of Cambridge is back on top for the best reason. Not only did Middleton cut off her trademark long brunette hair, which is practically newsworthy in and of itself, but she donated all chopped-off 7 inches of it to charity. Not just any charity, of course, but to an organization called Little Princess Trust, which provides free wigs for children and young adults who have lost their hair due to illness. Seriously, how fitting is the name of that charity? Middleton is a cheeky little lady.
Middleton recently showed off her shorter hairstyle while on a royal tour of Sweden. The mom-to-be (for the third time) and her husband, Prince William, visited ArkDes, the Swedish Center for Architecture and Design:
Middleton cut her hair in the summer of 2017, waving to her onlookers with Princess Charlotte in one of her first appearances to show off the new style.
The news of her charitable donation is only now coming to light, though. Middleton and her team wanted to keep it on the down low because, well, imagine if the world new their was a free royal wig out there. There'd probably be a bidding war over it, which would defeat the point of the donation.
"It's lovely to think that somebody, somewhere — probably more than one person — has received a wig containing Princess Kate's hair," Helen Creese, a representative from Little Princess Trust said in a statement. Creese continued, "It's a really lovely thought and it's fantastic for raising awareness, plus it's gorgeous hair — we all lust after that hair!" Middleton's hair is lust-worthy fo sho.
"Obviously we're all absolutely delighted that she donated her hair, and we're very grateful as well, just as we're grateful to everyone who chooses to support the charity in this way, and so many people do," Creese further commented, "it's such a selfless act anyway to donate your hair to help a sick child or young adult."
A source from the royal family explained that Middleton's hairstylist, Joey Wheeler of London's Richard Ward salon, had the idea to play with her length. Wheeler "persuaded her it was time to take off some of her hair; he said it was just getting too long." But Middleton herself was the one who thought of donating it: "While Joey was snipping away the idea came to her of doing some good with it rather than throwing it away." The source also explained that the donated hair "was sent using someone else's name, so that the trust didn't know it was from a royal source — they just thought it was from a female donor in the Kensington area."
The fact that Middleton didn't seek out the limelight for this generous donation makes me love her that much more.
Here's a reminder of how Middleton looked with her longer hair back in 2013:
The Duchess has worn her hair way past her shoulders for many years, and usually had it styled in a blowout that was nothing short of pristine.
Long or short, I 'd bet that countless hairstylists across the world have been asked to create "the Kate Middleton." It's basically the new "Rachel" haircut.