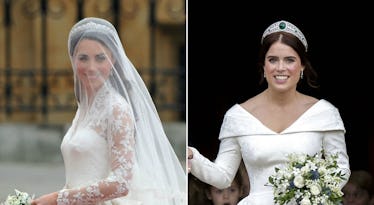 Here's How Princess Eugenie's Wedding Dress Compares To Kate Middleton's Own Gown
Pascal Le Segretain/Getty Images Entertainment/Getty Images // WPA Pool/Getty Images Entertainment/Getty Images
OK, so is it too soon to start gushing over how incredible Princess Eugenie looked at her wedding? I mean, we're talking over-the-top beautiful, from the glam to the gown to the lovey-dovey look in her eyes as she said, "I do." As with every royal wedding, I've been comparing said gown to those of other royal brides, and I've found myself particularly interested in Princess Eugenie's wedding dress vs. Kate Middleton's dress.
Both women had established signature styles well before their respective walks down the aisle, so to see how each's unique look influenced her gown — and to look at both gowns side-by-side — has proved to be beyond interesting for me, an unmarried, non-royal woman with a habit of marathoning Say Yes To The Dress for hours.
Even though today is all about Princess Eugenie, let's go in chronological order and start with Middleton, who wed Prince William way back in 2011. I feel like it was just yesterday I was sitting on the couch with my mom geeking out about how gorgeous she looked! And even though a few years (OK, seven years) have passed, her stunning gown has proved timeless, and will continue to be iconic for years to come.
Let's just say Middleton set the bar high for royal bridal beauty:
Still so good, right? Middleton's gown was designed by Sarah Burton for Alexander McQueen, and while it followed all the royal restrictions and catered to her personal, modest sense of style, it still came through with the drama.
I mean, should we talk about the train? Let's talk about the train:
That length (almost nine feet!) was i 👏 con 👏 ic 👏 and you know it. The other noteworthy element of this gown was the stunning lacework of its sleeves. The lace design included various flora, including roses, daffodils, thistles, and shamrocks, which were meant to represent the four countries that made up the UK: England, Wales, Scotland, and Northern Ireland.
TBH, Middleton's dess was the first wedding gown with sleeves I ever really liked. I think the sheer lace and the V-neck ensured the overall feel was still modest, but not too severe:
BTW, if you remember being struck by how pronounced the silhouette was at Middleton's waist on her big day, know that it was the result of some well-placed padding:
The New York Times reported that Middleton had padding placed around her hips to give her figure a little more curve. It also gave off total corset vibes, which could've been a nod to both Victorian royal traditions and the silhouettes of previous iconic McQueen gowns.
OK, OK, I'm finally ready to start talking about Princess Eugenie's gown. Behold her highly-anticipated wedding dress:
I MEAN, LOOK AT HER!!!! I AM BLOWN AWAY.
Eugenie's wedding dress was designed by Peter Pilotto and Christopher de Vos for Peter Pilotto — a designer that surprised many, as most thought Eugenie would opt for an Erdem dress, which she wore in her engagement announcement photos. However, Eugenie is clearly full of pleasant surprises, and I'm not even mad about it.
Her gown for her big day featured long sleeves, an off-the-shoulder neckline, and a statement train that seemed to go on for miles. The Queen also lent her the sparkling Greville Emerald Kokoshnik Tiara, which has huge emeralds embedded in it — completely different than the York tiara that most anticipated she would wear. All in all, the look was a perfectly bold statement look, and it couldn't have been more perfectly Eugenie.
Middleton's wedding dress and Eugenie's wedding dress do have their differences — the necklines, the fabric, and Eugenie's more all-over opaque vibe, to name a few. While Middleton opted for tons and tons and tons of beautiful lace, Eugenie opted for seemingly unending white satin with floral appliqués covering the whole gown. Middleton also donned a more modest neckline, with lace covering her shoulders and settling into a v-neck, while Eugenie's off-the-shoulder style gown allowed for a slightly less modest, more modern appearance.
Chris Jackson/Getty Images Entertainment/Getty Images
WPA Pool/Getty Images Entertainment/Getty Images
Still, the two gowns have more similarities than you might think. First, both brides opted for long sleeves, a traditional choice for British royal brides. Then, both gowns featured incredibly long trains trailing behind them down the steps of St. George's Chapel. Both gowns also had similar silhouettes: a fitted bodice with a long, flowing, puffier skirt.
Lastly, both gowns featured small, floral details that were meaningful nods to the UK or to each bride personal: Middleton's sleeves donned lace flowers that represent England, Scotland, Wales, and Northern Ireland — each country in the UK. According to People, the floral applique's on Eugenie's gown include thistle, a nod to Eugenie and Jack Brooksbank's love for Scotland; an Irish Shamrock, representative of Eugenie's family; the York Rose (Eugenie is the Princess of York); and ivy.
All in all, it's clear that both the Duchess of Cambridge and Princess Eugenie of York slayed on their respective wedding days. Even though there's strict royal protocal regarding what constitutes a regal bridal gown, both women were able to let their personal styles show through on their big days. Chances are, I won't have a royal team around to prep me for my own future wedding someday down the line, but at least I can scroll through hundreds of images of these royal brides to serve as my inspiration.