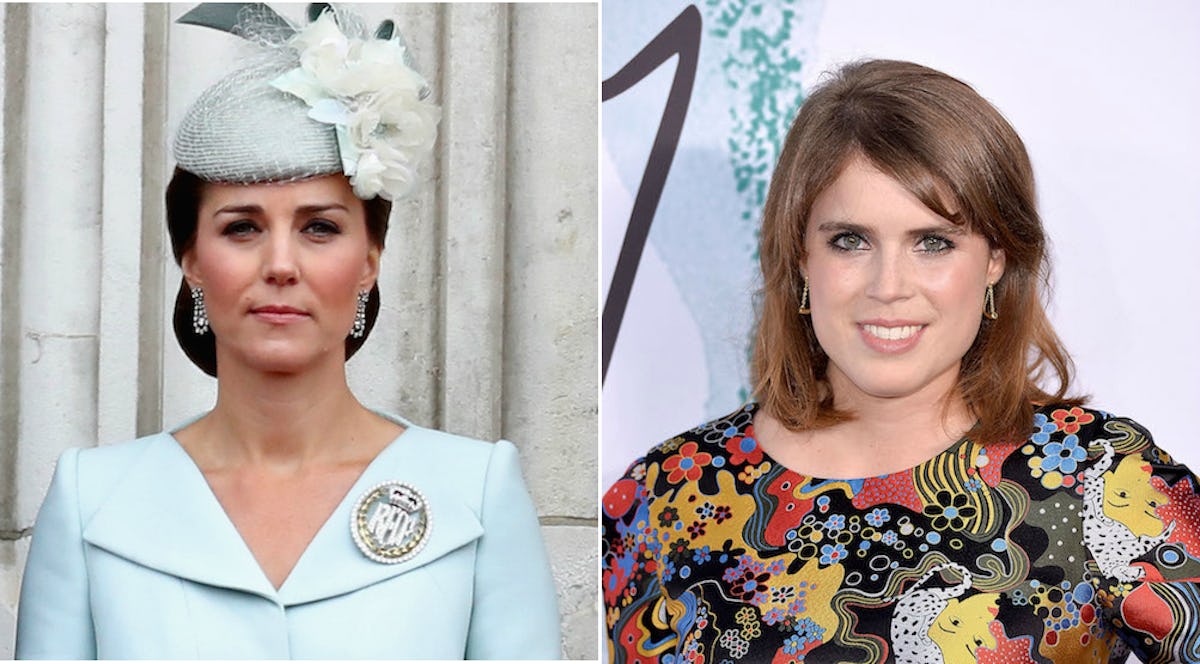 Kate Middleton's Fashion Compared To Princess Eugenie's Highlights A Few Key Differences
Chris Jackson/Getty Images Entertainment/Getty Images // Jeff Spicer/Getty Images Entertainment/Getty Images
Back in May 2018, the world witnessed what seems like one of the most important weddings of our lifetime: Meghan Markle and Prince Harry's. However, in all the hubbub about Harry and Meghan nuptials, some people may not have realized that there's actually another British royal wedding happening this year. That's right, Prince Harry's cousin, Princess Eugenie, will also be getting married this year.
Eugenie is set to tie the knot to UK ambassador for Casamigos Tequila, Jack Brooksbank, on Friday, Oct. 12, in the same place where the Duke and Duchess of Sussex got married: St George's Chapel at Windsor Castle. And while Princess Eugenie's wedding may not be as widely publicized as Prince Harry's and Meghan Markle's royal wedding was back in May, there are some very important things that we should all know about Princess Eugenie ahead of her big day.
For starters, she is the first cousin of Prince William and Prince Harry, and a part of the younger, more progressive generation of the British royal family. The princess resides in the Kensington Palace Estate in West London and is the daughter of the Duke and Duchess of York, Prince Andrew and Sarah Ferguson. She also has an older sister, Princess Beatrice; is active on social media; and is the founder of The Anti-Slavery Collective; a charity that focuses on ending the global epidemic that is modern slavery. Finally, much like Kate Middleton and Meghan Markle, she definitely prioritizes her sense of fashion and always manages to look her best.
All three of these women in the royal family have amazing yet very diverse styles. When comparing the two most recent royal brides' styles, Meghan Markle's fashion is very laid back with a big focus on neutral colors and lots of structure. On the other hand, Princess Eugenie and Kate Middleton's styles appear to be a bit more similar with their knack for brighter colors and patterns. Still, though, Middleton and Eugenie have their differences in fashion and beauty choices.
Hair And Makeup
Any time Middleton steps out, her hair always looks very polished. Most often, she can be seen wearing past-the-shoulder locks styled mostly straight, but with a little flair at the ends, as if she just got a voluminous blowout at Drybar. When she does step out with her hair pulled back, it is typically in a well-polished, low updo.
As for Princess Eugenie, when she is not seen wearing an elaborate, distinctive hat or fascinator, her shoulder-grazing light auburn locks show some texture, layering, and are styled with side-swept bangs.
More often than not, however, Eugenie is spotted rocking an elaborate headpiece — in fact, she's known for doing so. When that is the case, she's been seen wearing her hair in a piecy, low updo underneath the hat.
Casual Style
Middleton's casual style usually still remains sophisticated, as she typically opts for a casual coat or blazer with pants or a longer, knee-length dress. Regardless of if she opts for pants or a dress, she almost always incorporates some sort of pattern.
Similarly, Princess Eugenie is no stranger to a good pattern. Where the two differ, however, is in the fact that Eugenie's patterns are typically even bolder and include brighter colors and florals.
Formal Attire
For Prince Harry's and Meghan Markle's wedding, Middleton went with a pale yellow Alexander McQueen coat dress and accessorized with her own elaborate hat of the same color. In fact, Alexander McQueen has become one of her go-to designers for formalwear — the British design house was also responsible for Middleton's wedding dress.
For the Duke and Duchess of Sussex's wedding, Princess Eugenie went with a dress that is shorter (especially compared to Middleton's) and a bit more tailored and structured. The powdery blue, short-sleeved dress was designed by England-based brand Gainsbourg. While this look is a bit more muted than the bold colors we are used to seeing Eugenie wear, the shorter length and addition of the studded Valentino heels definitely added an edgier vibe to the otherwise subtle ensemble.
Their Go-To Designers
As mentioned, Middleton has a sweet spot in her heart (and closet) for the enchanting, whimsical designs by Alexander McQueen's Sarah Burton. The Duchess of Cambridge also tends to don pieces by Erdem, Temperley London, Jenny Packham, and Mulberry.
On the other hand, Eugenie's designers of choice include the likes of Erdem, Vivienne Westwood, Preen by Thornton Bregazzi, Burberry, and Stella McCartney — all of which are a tad bolder with their designs and all of which have been mentioned to be in the running to design the bride's wedding gown. As pictured below, Eugenie donned a Vivienne Westwood cropped jacket with a sky blue skirt to Prince William and Kate Middleton's wedding.
Their Wedding Style
Since Princess Eugenie is already royalty (whereas Markle and Middleton both married into the royal family) but is not necessarily a working royal, the rules that she must follow in regard to her wedding gown are a little bit more lax than the wedding attire rules Markle and Middleton had to adhere to. In 2011, when Middleton married Prince William, she went with a long-sleeve lace gown by Alexander McQueen's Sarah Burton on her wedding day.
While Princess Eugenie has kept her lips sealed about who is designing her wedding gown, she told British Vogue that, just like Middleton, she is going with a British-based designer, as it is royal tradition to do so. "I'm not telling anyone who is making it, but I can say it is a British-based designer. [The dress] is the one thing that I was really decisive about. As soon as we announced the wedding, I knew the designer, and the look, straight away," she said.
While it's anyone guess when it comes to Eugenie's dress, she did wear a black, white, and red floral dress by Erdem to announce her engagement back in January 2018, which some people have said may be an indication that she will go with an Erdem wedding gown as well.
Regardless of whom Eugenie chose to design her gown, I know that she will look absolutely flawless on her wedding day. And I'm sure that the bride will definitely make sure her personal style shines through.