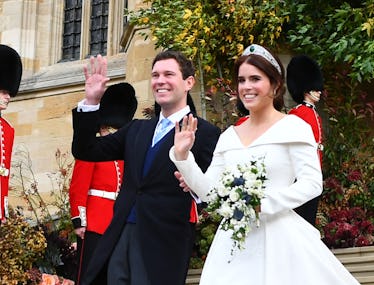 The Queen Gave Princess Eugenie The Most Beautiful Tiara To Wear For Her Wedding
WPA Pool/Getty Images Entertainment/Getty Images
A bride tends to go all out when it comes to her dress and accessories on her wedding day. Princess Eugenie of York definitely fit the part of the beautiful bride when she married Jack Brooksbank on Friday, Oct. 12. How did she get this stunning look? Well, one crucial piece is thanks to her grandmother. Princess Eugenie's wedding tiara was loaned to her by the queen herself.
When you're the granddaughter of Queen Elizabeth, that apparently means that your wedding day includes the gift of an emerald-studded tiara, per People. More specifically, Eugenie was gifted (for the day) a "Greville Emerald Kokoshnik Tiara." It was made in 1919 by the Boucheron, a French jewelry house, for Dame Margaret Helen Greville, who was a philanthropist and well known in British society at the time, per The Telegraph. While the history of this gorgeous piece is interesting, I'm personally more interested in the details of the diamonds.
Fashioned in the "kokoshnik" style made popular by the Russian Imperial Court, the tiara Eugenie wore on Friday has "brilliant and rose cut diamonds pavé set in platinum" along with six emeralds (!!!) on either side of the head topper.
Now that is a gift from your grandma that I can get on board with. I mean, I love my five bucks in a birthday card, but diamond-and-emerald-studded tiaras from the early 20th century are also always appreciated. Eugenie sure looked delighted to be able to don the gorgeous tiara on her wedding day. I'd bet it held even more meaning for her knowing that it was a heartfelt gift for her wedding day from her grandma.
The queen wore a powder blue overcoat and a subtle smile as she watched her granddaughter wear the personal gift and marry her longtime boyfriend, Jack Brooksbank.
Eugenie's wedding day look also included a beautiful wedding dress designed by Peter Pilotto and Christopher De Vos, of the the British-based label Peter Pilotto, per CNN. At the bride's request, it also featured a low-cut back to show off Eugenie's scars from a childhood operation to remedy a curvature in her spine due to scoliosis, per Yahoo. The end result was a gorgeous long-sleeved gown that paired perfectly with the Queen's loaned tiara.
WPA Pool/Getty Images Entertainment/Getty Images
WPA Pool/Getty Images Entertainment/Getty Images
The perfect topper for her ensemble was not the only gift that the queen gave her granddaughter on Friday. Following her tradition from the respective weddings of both Prince William, Duke of Cambridge, and Prince Harry, Duke of Sussex, the queen held a champagne reception on the grounds of the Windsor Castle, following the wedding ceremony and carriage ride.
So, let me get this straight: the queen gifted her granddaughter diamonds and champagne in honor of her wedding day? OK, living like a royal sounds like like the way to go. Of course, champagne is usually a mainstay at weddings, but having your grandmother, the queen, host all of your guests for a champagne toast at her springtime residence, Windsor Castle, is just a level of celebrating that I can't really relate to.
Alas, Eugenie's wedding day isn't about me (or you) relating to the glamour of it all, but it does appear that it was, in part, about the special bond between the queen and Eugenie. And with the heartfelt gifts given to Eugenie from her grandmother, I'm sure they both enjoyed this very exciting day.