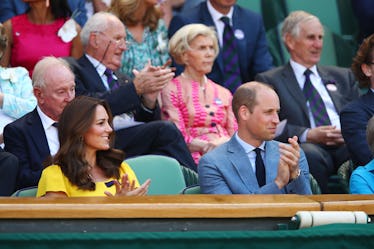 Kate Middleton & Prince William Had A Day Date At Wimbledon & The Photos Are Too Sweet
Clive Brunskill/Getty Images Entertainment/Getty Images
Kate Middleton and Prince William are a quite the busy couple lately. Not only do they have to keep up with their duties as the Duke and Duchess of Cambridge, but they also have three young children, including the most recent addition to their family: Prince Louis. It looks like the happy couple finally made some time for themselves when they attended the Wimbledon men's final on Sunday, July 15. These photos of Kate Middleton and Prince William at Wimbledon are total couple goals, and the pair looked like they had so much fun together.
According to People, the duke and duchess arrived at the royal box at Wimbledon on Sunday to watch the Gentlemen's Single Final. The royal couple was smiling and laughing together as they watched Kevin Anderson and Novak Djokovic compete. If the many photos of the couple from Sunday are any indication, then the Duke and Duchess of Cambridge appeared to have a seriously good time together.
I'm not sure if they were cracking jokes to each other or simply basking in the moment of the rare kid-free date they were able to snag, but they sure made watching a tennis match look like the most fun outing ever.
Middleton shined in a bright yellow dress as she and her husband turned Wimbledon into their very own romantic outing. Of course I'm not talking about any over-the-top PDA, but the seven-years-married couple looked like they were still in the honeymoon phase as they enjoyed each other's company.
I mean, take a look at how Middleton could hardly contain her laughter during the match.
Of course we don't know what William said to make his wife laugh so hard, but I'm sure the mom of three enjoyed the opportunity to let loose. With three kids under the age of the age of 4 (Prince George will turn 5 this month), they likely could have been discussing any of the hilarious hijinks that only children can get up to. Maybe they were even reminiscing about the entertaining moment at the Trooping of the Coulour celebration in June between Prince George and his cousin, Savannah Phillips. Phillips playfully covered Prince George's mouth as they stood on the balcony, and the meme-worthy moment went totally viral.
Whatever the topic at hand was during Sunday's Wimbledon final, it provided for a very entertaining afternoon for the royal couple. Middleton has long proved herself to be quite the tennis fan, and this was her second time attending the 2018 Wimbledon tournament in as many days. Middleton was joined by her new sister-in-law Meghan Markle on Saturday, July 14, for a girls' day out at Wimbledon.
Middleton and Markle appeared to enjoy their outing together at the All England Club as they watched Serena Williams play against Angelique Kerber in the women's final. Unfortunately, Williams lost the final, but Markle and Middleton still cheered her on from the stands. It's no surprise that Markle supported her friend from the stands. Considering that Williams attended Markle's May 19 nuptials to Prince Harry, it seems like these two have a very strong friendship.
Middleton and Markle's sister-in-law bond looked like it was very strong as well on Saturday. It's good news for the new Duchess of Sussex that she and Middleton have become fast friends, because I imagine marrying into the royal family as a commoner is no easy task. Fortunately, Middleton has been in Markle's position before, and she can show her the ropes.
There are plenty of strict guidelines to follow when it comes to being a royal, but from the looks of the photos of Middleton and William at Wimbledon on Sunday, it appears that adorable AF day dates with your husband aren't against any royal protocol.