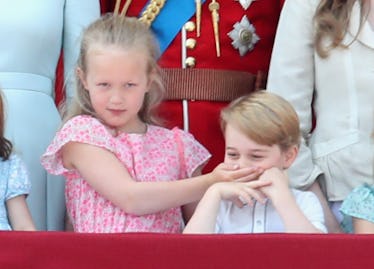 This Meme-Worthy Moment At The Trooping Of Colour Is Going Viral & It's Hilarious
Chris Jackson/Getty Images News/Getty Images
Prince George may be my favorite mini royal ever. The toddler has has an adorable (albeit very unimpressed) expression for every occasion, whether he's refusing to high-five Canadian PM Justin Trudeau or scowling at a stranger who tries to pick him up. Well, it turns out that sass might run in the family, because the girl who covered Prince George's mouth on the palace balcony is his cousin — and she's going viral.
While I admit that my attention was initially on the newest member of the royal family during the Queen's annual birthday party (seriously, could Meghan Markle look any more glowed-up?) , Prince George, 4, and Princess Charlotte, 3, soon stole the spotlight with their balcony antics at Buckingham Palace. By now, Prince William and Kate Middleton's kids are old hands at the annual Trooping of the Coulour celebration, and they decided to welcome the new Duchess of Sussex to the festivities with some silly hijinks that had Markle (and the Queen) giggling throughout the ceremony, per People.
At first, everything seemed under control. With 7-week-old little brother Prince Louis at home, Princess Charlotte exhibited her typical poise as she smiled and waved at the crowd, according to People. Prince George appeared to be in good spirits as well, beaming and pointing up at the sky as the Air Force flew by. However, mischievous older cousin, Savannah Phillips, soon stole the scene as the unexpected social media star du jour. While the 7-year-old's faux conducting had members of the royal family quietly chuckling, it was her no-nonsense attempt to school Prince George that quickly made its rounds around social media.
The tomfoolery all started when the planes started flying overhead. While Prince George and Princess Charlotte politely clapped as they watched the show, Savannah proved that she was a firecracker early on by playfully sticking her tongue out.
Later, she wasn't having it when Prince George started singing along to the National Anthem, Time reports, and the relatable moment is totally meme-worthy. When the young prince started enthusiastically belting out the lyrics, she decided to shush him in the most older cousin way possible: by covering his mouth with her hand. The takeaway? Your older cousin will always tell you what to do, even if you're Prince George and you're the future king of England.
It looks like Savannah knew that the cameras were on them, because she flashed a hilarious deadpan expression when she covered his mouth. Luckily, Prince George took the shushing in stride, and started to giggle along with Savannah's younger sister, Isla. There was literally no royal "sass" face in sight. As a royal family refresher, Savannah is the daughter of Peter and Autumn Phillips, Princess Anne's granddaughter, so her royal lineage probably makes it a little easier for her to boss around her younger cousin.
When People first shared a GIF of the exchange on Twitter, the Twitterverse couldn't handle it. Honestly, it's only a matter of time before this totally relatable image becomes the next "distracted man" meme of 2018.
While Savannah might be the newest breakout personality from the event, Princess Charlotte is also no stranger to working a crowd. After she tripped on the balcony and was rescued by mom Kate Middleton, the tearful 3-year-old was every bit the collected princess as she rallied from her fall and continued to enjoy the event, according to People.
Judging from the photos, the Duke and Duchess of Cambridge's only daughter didn't even spare a second glance at older brother George and Savannah's larks. It looks like both of the little ladies in Prince George's life have no qualms about keeping him in line, and it's so entertaining.