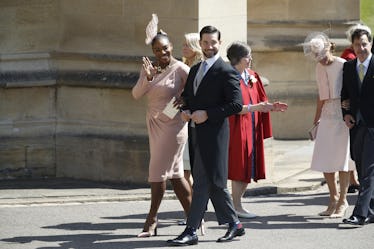 Serena Williams' Royal Wedding Look Served Up Blush Pink & Braids, So Take Notes
WPA Pool/Getty Images Entertainment/Getty Images
As the wedding guests strolled into what seems like the wedding of the century, I couldn't help but be absolutely floored by the extravagant outfits I saw. But tennis champion and all-around cool girl Serena Williams' royal wedding look is serving up serious wedding outfit goals, and she looks like a blush goddess. Heading into this wedding I expected super dramatic looks. I mean seriously, there's only one time in your life that you can say you went to a royal wedding. That's why the moment Williams put her royal wedding prep on her Instagram Story, I knew fans were in for some major drama... well, in terms of her fashion choices, that it.
I love that Williams decided to step outside of the box, while still keeping her look royal friendly. Her millennial pink Versace gown is to die for, but what really makes the look stand out are her braids, topped with a perfect Philip Treacy fascinator. The gold necklace feels old-fashioned, tipping a nod to the historical nature of this moment (and the chapel the ceremony is being held in), while still feeling fresh and modern. If I wasn't completely inundated with student loans, I would have to buy it myself.
This is such a flattering look for Serena. The diagonal neckline with the swoop is really flattering and makes for a great neck-up photo for when she's seated in the chapel. It also sets off the necklace, which really is a statement piece. It's not all that long, either. It hits the knee, so that it's demur, but still short enough not to be too formal for a spring wedding.
And the color! There are tons of people who complain that Millennial Pink is played out entirely too much, and in another setting, this might be too faded a shade to hold up. But look at it against the English background, against the grass and the stones of the Chapel. It screams "spring" without being "florals for spring," you know?
Also, check out her cute husband, Reddit co-founder Alexis Ohanian, in his morning coat. He looks pleased as punch to be his wife's best accessory. (Seriously, he might be the founder of Reddit, but he's totally here as Serena's plus-one, and everyone knows it.)
Here's the neckline and the necklace against the background of the St George's Chapel interior. Someone joked that she looked like she's entered Medieval Times and was just hanging out. In truth, she is sitting in a background from medieval times, but the real thing. (St George's Chapel has been standing since 1348.)
Really, though, we just need to stop and talk about the fascinator.
Serena is wearing a fascinator instead of a traditional hat. The variation on a hat, which technically meets the requirements of the royal etiquette, was popularized in the middle 1990s, and there were tons of them back at William and Kate's wedding in 2011. (Everyone remember's Eugenie's "loo" headpiece from that ceremony.)
What makes the difference between a fascinator and a hat is that a traditional hat actually covers the whole head and sits upon it with no assistance. Meanwhile, a fascinator is something that must be pinned to the head, and usually has a headband to help hold it on, as can be seen in the close-up above.
Interestingly, the royals actually mostly went full hat for this wedding, perhaps suggesting the fascinator is on its way out as fashion statement. But for Serena, it was the perfect choice to show off her fantastic braids which practically reached the hem of her dress.
Serena Williams was a highlight of this royal wedding's fashion moments, and I'm so glad she decided to take off from the Italian Open and attend this event this weekend.