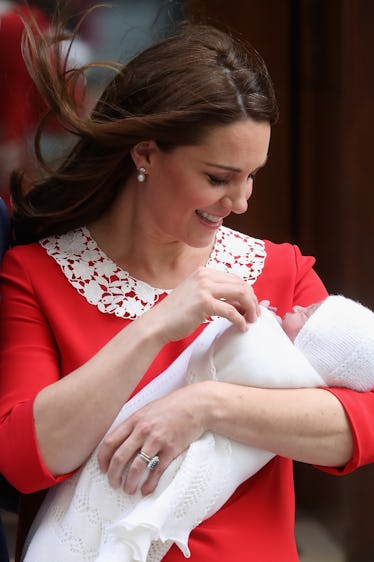 Here Are The Chances Prince Louis Arthur Charles Will Be King & They're Not Good
Chris Jackson/Chris Jackson Collection/Getty Images
England officially has a new royal, even if he can't walk, talk, or eat solid foods yet. On Monday, April 23, Kensington Palace announced that Kate Middleton had given birth to a baby boy, who is the third child to Middleton and her husband Prince William. On Friday, April 27, the Palace announced his name is Louis Arthur Charles. Given how complicated the British royal line of succession is, you might be wondering: Will Louis Arthur ever become the king of England? Even though he was just born, Louis has a pretty high place in the royal line of succession. Let's go over where he falls and what his title will be.
After his birth on Monday morning, Louis is officially fifth in line for the royal throne of England — not a bad first birthday gift, huh? Currently, Louis' great-grandmother Queen Elizabeth II reigns as queen. Next to the throne is Elizabeth's son Prince Charles of Wales. Following Charles, his son Prince William (currently the Duke of Cambridge) will take the throne. Then come William and Kate Middleton's three children, who are receive placement in the line of succession according to their birth order: Prince George (born in 2013) is third in line, succeeding his father Prince William to the throne, followed by Princess Charlotte (born in 2015), and finally, the newborn Prince Louis takes the fifth slot in the line of succession.
So, what are the chances that this new baby boy will grow up to be king someday? Well, to be honest, they are pretty slim. Even though he was born high up on the line of succession, he's so close in age with his older siblings that it is unlikely he will outlive either of them by a significant degree. On top of that, if Prince George or Princess Charlotte have children when they grow up, those kids will overtake Louis' spot in the line of succession, meaning that it is much more likely for Louis to be the uncle to the future king rather than sit on the throne himself. That is what is currently happening to Prince William's brother (Louis' uncle) Prince Harry of Wales, who is now knocked down to sixth in the line of succession behind his newborn nephew.
Louis' addition to the royal line of succession actually marks a historic first for England. Historically, if a newly born male heir had an older sister, he would bypass her in the line of succession (because, you know, deeply entrenched sexism and misogyny and stuff). That would traditionally have made Louis fourth in line for the throne and bumped his older sister Charlotte down to fifth, but because of a newly implemented rule prior to Charlotte's birth, the young princess will keep her place in the royal line. This marks the very first time in British history that a princess has not been unseated in her place in the line of succession by a newborn younger brother.
As for a title, Louis shares the royal title of Prince of Cambridge with his older siblings. And it sounds like Louis will be in pretty good company, because his cousin is also on his or her way as we speak. Kate Middleton's sister Pippa Middleton is reportedly pregnant with her husband James Matthews, carrying her first baby. Also, Louis' uncle Prince Harry is about to marry Meghan Markle in less than a month, and fans of the royals are guessing that the two will try for a baby pretty closely after they tie the knot. So, although Louis will likely never sit on the throne, at least he is going to grow up with a bunch of siblings and cousins his age to play with. Oh, and like, living in a palace probably doesn't suck either.