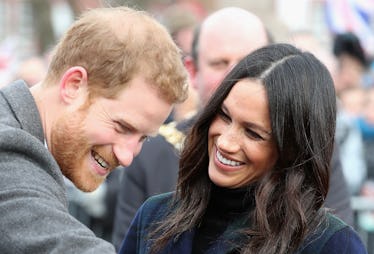 Prince Harry Reportedly Wants To Start A Family With Meghan Markle ASAP & I'm Swooning
Chris Jackson/Getty Images Entertainment/Getty Images
You know the royal couple, right? Meghan Markle and Prince Harry, pretty sure you've heard of them, yes? Well it seems that the royal couple might be ready to start a royal family sooner than later, and that makes me immeasurably happy. ROYAL BABIES, people! But don't think that it's all Markle's idea, because in fact, it seems to be the exact opposite. That's right, Prince Harry reportedly wants to start a family with Meghan Markle as soon as possible, and I can't even say I blame him. I mean, look at that girl! She's a total catch (and Prince Harry is not too shabby, either).
Royal expert Katie Nicholl, who is the author of Harry: Life, Loss, and Love, told ET that Prince Harry wants to start having kids with Meghan right after they get married. "My sources are saying that Prince Harry, particularly, is very keen to start a family, pretty soon after the royal wedding," Nicholl said, adding, "He's made no secret about wanting children."
So, what's the rush? Why not wait until after your honeymoon to start thinking about making some babies? Apparently, it's because of Harry's brother, Prince William, and the family he's made with Kate Middleton. Nicholl said,
I think that moment [for Harry] really kicked in when his brother, Prince William, of course, settled down with Kate Middleton. That has definitely gotten Prince Harry pretty broody.
Broody, huh?
Well perk up, Harry, because you have a fox of a bride and she won't tolerate your brooding.
Nope. Saddle up, cowboy, and put a smile on your face.
But it's not just Harry who is good with the little ones. Nicholl told ET that Meghan was excited to meet Prince William and Kate's children, Prince George and Princess Charlotte, and that "Meghan is very doting with children," adding that it was "actually a moment involving children, when Meghan really fell for Prince Harry."
Sorry, just give me one quick minute, my eyes are leaking uncontrollably.
OK, let's get back to it.
Nicholl also told ET that Prince Harry wanted Meghan to meet Prince George and Princess Charlotte was so that she could see that marrying into the royal family doesn't mean you won't have a "normal" family life. Nicholl said that being a part of the royal family "doesn't mean you can't have a regular family with cute children, and here are George and Charlotte to show that that can happen."
I mean, she's not wrong. Look at these cutie pies!
I don't know about you, but I'm pretty excited to see what's in store for the royal future. Of course, we'll *probably* have to wait until Prince Harry and Meghan Markle get married on May 19, 2018, at St. George's Chapel at Windsor Castle until we hear anything about royal babies, but I'm totally willing to wait.
What I love about the royal couple is just how laid back they are with each other, and with the details of their royal wedding. A royal announcement was released on Friday, March 2, that extended wedding invitations to the public, saying that the couple "want their wedding day to be shaped so as to allow members of the public to feel part of the celebrations too," adding, "This wedding, like all weddings, will be a moment of fun and joy that will reflect the characters and values of the bride and groom."
Yep. Coolest royal couple EVER.
And of course, nothing compares to their royal engagement. In the couple's first interview after their engagement with the BBC, Markle said that when they got engaged, it was "Just a cozy night, it was, what were we doing, just roasting chicken," and that the proposal "was an amazing surprise. It was so sweet and natural. Very romantic. He got on one knee."
Those details still give me the chills TBH. I love a good royal proposal.
Who am I kidding? I also love a good royal wedding. And royal babies.
Basically, I can get behind anything royal, so I'm looking forward to a lifetime of Prince Harry and Meghan Markle. You guys rock my not-so-royal world.