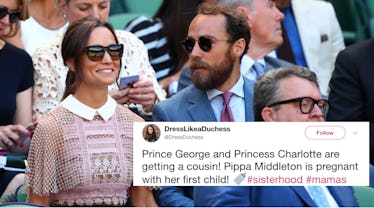 Pippa Middleton Is Reportedly Pregnant & Twitter Is Freaking Out
Clive Brunskill/Getty Images Sport/Getty Images
As the royal family prepares for a royal wedding and a new baby, there is more good news. Pippa Middleton is reportedly pregnant with her first child. It was reported on Sunday, April 22 that Duchess of Cambridge Kate Middleton's younger sister is also expecting, and Twitter couldn't be more excited about the news.
The Sun, a U.K. publication, broke the pregnancy news on Sunday, and the paper relayed that Pippa Middleton and her husband James Matthews have reportedly shared the exciting news with friends and family. Pippa is the younger sister of Kate Middleton, who is, of course, married to Prince William, and the royal couple is set to welcome their third child this month. Middleton must have been excited to share the news of her reported pregnancy with her older sister, since The Sun reported that Kate was the first to learn the news from the couple. She apparently "could not have been more delighted" to hear it. Elite Daily reached out to Kensington Palace for comment but has not heard back at the time of publication.
Pippa will have some time to learn all the tips and tricks of motherhood from her older sister, since it was reported that she is just over 12 weeks pregnant. Pippa and Matthews got married last May in a private ceremony, and The Sun reported friends of the couple have said the two are "overjoyed" that they are expecting a child.
As I said before, it is quite an exciting time across the pond, since Kate Middleton and Prince William, along with their young children Prince George and Princess Charlotte, are set to welcome another child into the royal family.
The news that Pippa is also expecting has people very excited for the family, because even though she isn't technically a royal, she has been a fixture of the family ever since Price William and Kate's wedding in April 2011.
Plenty of people are congratulating Middleton and her husband on the reported pregnancy news, and while fans are excited about this mini Middleton baby boom, that's not all the royal family is celebrating this spring.
Royal family watchers, of course, know that Prince Harry is set wed Meghan Markle on May 19, 2018 at St. George's Chapel at Windsor Castle. Ever since news of the couple's engagement broke last November, fans have been anxiously awaiting the ceremony, which you can watch from home if you didn't snag that coveted wedding invite.
Since the news broke that Pippa is reportedly pregnant, you might be wondering if you'll get a peek at her baby bump when she attends the nuptials of Markle and Prince Harry. Unfortunately, there is no official word yet on whether or not Pippa is invited or planning to attend the royal wedding next month, but you can look back at Pippa's own wedding last May for a clue that might give you hope that she will be in attendance at St. George's Chapel.
Prince Harry was photographed at Pippa's wedding ceremony last year, and even though there were no photos of Markle celebrating the younger Middleton's big day, it was reported that Markle attended the reception, according to the UK Express.
If the budding friendship between Kate Middleton and Markle is any indication, then maybe there is a possibility that Pippa will wind up on the guest list. Of course, Kate and Markle share the unique position of marrying into the royal family, and a source told Entertainment Tonight that "Kate has been doing whatever she can to help Meghan adjust to life behind Palace walls."
Since there is no official word yet on whether or not Markle shares a similar friendship with Pippa, you'll have to wait for the May wedding to see if the younger Middleton sister made the guest list. Fingers crossed!