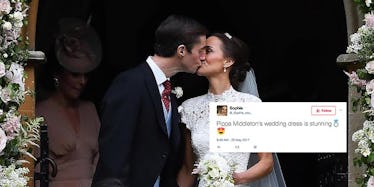 Pippa Middleton's Wedding Dress Is Making Twitter Go Wild
Getty Images/Twitter
Pippa Middleton and James Matthews tied the knot in a royally glamorous private ceremony in Englefield on May 20.
Fortunately for us, moments of the so-called private ceremony at St. Mark's Church have been captured, and women worldwide now have the opportunity to marvel at the bride's dress.
Dare I say — and of course I mean to disrespect toward the lovely Kate Middleton — Pippa's dress was bangin'.
Take a look at the beauty for yourself.
There's no denying the truth: It's pretty fabulous, and it does rival her older sister's famous gown.
Rumors were swirling that Giles Deacon was Pippa's designer of choice after the British couturier was seen leaving her home with dress bags. Now we can confirm Pippa said yes to the dress.
Naturally, after photos surfaced online, Twitter had an absolute field day with comments about the bride's dress.
Many women thought Pippa looked beautiful.
Why fall in love with a person when you have this dress?
Pippa's stunning look is making us all a wee bit jelly.
It's definitely lovely — no question about it.
Those Middleton girls and their classic looks!
Unfortunately, for every tweet gushing about Pippa's dress, there were equally as many tweets from naysayers.
Let's be real, @pilipala19, if Pip got married "in the nack," she'd still look pretty damn good.
We see you trying to be funny, @Plankton1975 ... but it's not working.
Again — beautiful dress, the buff or a cardboard box, Pippa would rock it.
Now that the ceremony has finished, Pippa and James will head back to Pippa's family home in Bucklebury where 300 guests will meet them for the reception. There is, according to Vogue, a beautiful glass structure on the 18-acre property that will accommodate the guests.
I'm lucky if I can get three people in my apartment, let alone 300. This is going to be quite the event!
Citations: Pippa Middleton Walks Down the Aisle in a Lace Giles Deacon Dress (Vogue), Meet The Designer Behind Pippa Middleton's Wedding Dress (InStyle)