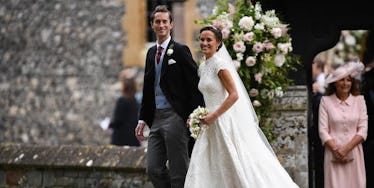 The Celebs At Pippa Middleton's Wedding Are As Stylish As The Bride
Getty Images
Pippa Middleton is officially a married lady.
The 33-year-old stunned in a lace gown designed by Giles Deacon, so much so that it gave her sister's famous wedding look a run for its money.
Undoubtedly, James Matthews knows he is quite a lucky fella.
Take a gander at Pippa's dress and try not to fall head-over-heels in love with it.
I know — it's pretty gorgeous, right?
The ceremony took place at St. Mark's Church in Englefield and of course, a large crowd of guests piled in for the romantic nuptials.
Kate Middleton, as per usual, pulled off a classy look to perfection.
Here she is attending to her motherly duties in her blush Alexander McQueen dress, naturally looking flawless while doing so.
Tennis sensation Roger Federer attended the ceremony with his wife, Mirka, who was wearing an elegant silver number.
I'm calling my tennis fanatic father as we speak — Federer is his guy.
Princess Eugenie of York wore a split shoulder dress from Parisian designer Paule Ka.
Take a look at her adorable pumps while you're at it.
Some guests really went for a bold statement.
Would you take a look at those plaid pants? Not sure I am confident enough to rock that look.
Florals were a popular choice for the ceremony, and so were bright colors.
We can't forget about the cutest guests in attendance.
Squee! I just love those little faces! Princess Charlotte and Prince George are beyond adorable.
Even as turmoil unfolds, Prince George is still oh-so sweet.
Isn't that the cutest tantrum you've ever seen?
I know what you're thinking: Prince William and Prince Harry were there, too.
We've got you covered, ladies.
But there is one person missing. No one has spotted Prince Harry's lady, Meghan Markle as of yet.
Reports suggest she arrived in an entrance where attendees wouldn't be photographed, as to not take away the attention from Pippa's big day. We'll have to wait to see when she'll arrive at the reception.
But what did we tell you: They are a pretty stylish bunch of wedding guests, right? Looks like I'll have to retire my over-worn Modcloth LBD and spice things up.
Citations: pippa middleton wedding guests (Twitter)