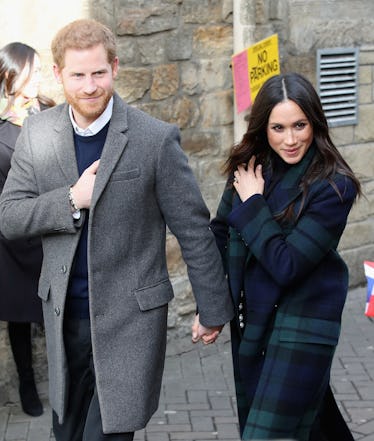 Meghan Markle & Prince Harry's Wedding Invitations Are Here & OMG, They're Gorgeous
Chris Jackson/Getty Images Entertainment/Getty Images
You guys. Meghan Markle and Prince Harry's royal wedding is just a few months away, and I don't know about you, but I am freaking out. As with every wedding, the little details are always super important. What linens are you going to go with? What flowers will be in your bouquet? Am I invited? (Sadly, I'm not one of the lucky members of the public that was invited to their wedding day.) But a super important detail that sometimes goes unnoticed? The invitations. They are the first detail of your wedding that guests will see, so they HAVE to be perfect. And I think the royal couple nailed it, because these photos of Meghan Markle and Prince Harry's wedding invitations will make you wish you were marrying into royalty.
Let's just start with the facts here: You know that these invitations are elegant, fancy, and downright divine, because it's Meghan Markle and Prince Harry we're talking about. But when you see just how lovely they look, you'll probably try to Google search "single princes near me" because Meghan Markle and Prince Harry's wedding invites are the stuff royal dreams are made of.
The invitations were made by Barnard Westwood, which is a tradition for the royal family. And, oh yeah, they're printed with gold ink, so NBD.
According to Elle, the invites "feature the Three-Feathered Badge of the Prince of Wales printed in gold ink," but there's also American ink as a nod to Markle's nationality, which is actually really sweet.
Look at the invitations and tell me that they are not the definition of perfection:
And guess what? Kensington Palace was kind enough to give us even more backstory to these gorgeous invites on Twitter. A woman named Lottie Small printed all of the royal wedding invitations through the process of die stamping, and I'm not sure what that means but it sounds regal AF:
Lottie Small, who recently completed her apprenticeship, printed all of the invitations in a process known as die stamping, on a machine from the 1930s that she affectionately nicknamed Maude.
Then, using American ink (shout out to our girl, Meghan, for repping the USA) on "English card, the invitations are printed in gold and black, then burnished to bring out the shine, and gilded around the edge."
Is it weird to salivate over this video? Can someone turn this into a GIF? Holla at your girl if you're good at that kind of thing.
While the invitations look very traditional, it seems like a lot of details for their wedding day will be far from it. Royal tradition states that the wedding cake will be a fruit cake, but Meghan and Harry were like "NOPE."
Tweets from Kensington Palace say that Prince Harry and Meghan Markle "have chosen pastry chef Claire Ptak, owner of the London-based bakery @violetcakes" to make their cake and that they have decided to have Ptak "create a lemon elderflower cake that will incorporate the bright flavors of spring. It will be covered with buttercream and decorated with fresh flowers."
Holy yum, Batman. I'll take two slices, please.
And if you need more proof that they are the coolest royal couple around, consider the fact that Meghan and Harry have their own wedding beer being created in honor of the couple tying the knot.
British brewers Windsor & Eton Brewery has made a special edition beer, called Harry & Meghan's Windsor Knot, in honor of the pair exchanging their vows on May 19 at Windsor Castle:
Willie Calvert, co-owner of the brewery, told People that the beer is a blend of both their backgrounds, made using the barley grown on Queen Elizabeth's Windsor farm, as well as mixing both British and American hops in the brew itself. He said,
It gives a nice story about Harry & Meghan's backgrounds. We're using some nice, fruity hops from Yamika in Washington State, and some English hops, which are more subtly flavored. English hops tend to be more of a grassy, textured flavor — a bit more like hay — whereas New World hops have more sunlight and are more strongly flavored.
Awesome wedding cake? Check.
Beer made in your honor? Check.
The world's most gorgeous invitations? 100 percent check.
Meghan and Harry, I'd say you're nailing this whole "wedding" thing, but we never doubted you in the first place.