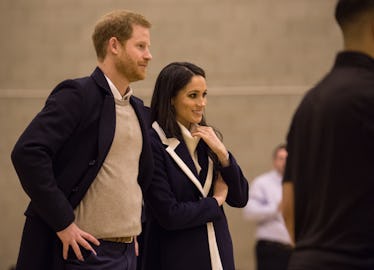 Meghan Markle & Prince Harry Have Their Own Wedding Beer & I'll Toast To That
WPA Pool/Getty Images Entertainment/Getty Images
Meghan Markle and Prince Harry are the epitome of #CouplesGoals: They go on fun double dates together. Markle's engagement ring is stunning enough to give me butterflies (and make me just a tad bit jealous, if we're being completely honest). They're even treating regular people like you and me as royals by allowing the public to sit in on their wedding. But what takes the cake is that the royal couple is getting their very own wedding beer. Yes, you read that correctly: Meghan Markle and Prince Harry's wedding beer is an exclusive creation that'll be available for purchase in the time leading up to their wedding. I don't think a love story can get any more epic than this.
According to a report from Travel + Leisure on March 13, British brewers Windsor & Eton Brewery, which is just a five-minute pub crawl away from the chapel where the couple will wed on May 19, has created a special edition beer in honor of the couple's big day. The brew, called Harry & Meghan's Windsor Knot, is a pale ale made from a blend of British hops called Invicta, which is inspired by Toronto's Invictus Games; a sporting event where the royal couple made their first public appearance together last year. The beer also includes American West Coast hops and is topped off with champagne yeast, adding just a dash of class in honor of the royal event. It'll be available for purchase beginning on March 28 at the Royal Farms Windsor Farm Shop, or if you don't plan on being overseas any time soon, you can pre-order the beverage and the first orders will be delivered starting on April 3.
When speaking about the development of the beer, co-owner of the brewery Willie Calvert told People that it's an ode to the couple's backgrounds. He said,
It gives a nice story about Harry & Meghan's backgrounds. We're using some nice, fruity hops from Yamika in Washington State, and some English hops, which are more subtly flavored. English hops tend to be more of a grassy, textured flavor — a bit more like hay — whereas New World hops have more sunlight and are more strongly flavored.
A news release from the brewery also mentioned that the bottles feature two interwoven male and female symbols to "reflect the strength and support" that Markle and Prince Harry give each other. The statement read:
When Harry & Meghan tie the knot it will be very much a modern marriage of equals as well as being a celebration of their British and American nationalities. Each of them have causes that they care deeply about such as the environment, equal rights and the rehabilitation of injured servicemen and women. We chose the interlocking symbols to reflect the strength and support they give each other.
I'm not crying — you are.
The royal wedding is gonna be huge.
Markle and Prince Harry have invited 2,640 people to join them for their wedding on May 19 at the Windsor Castle — including 1,200 members of the public. On March 3, a royal announcement was sent out to share the news, stating,
1,200 members of the public from every corner of the United Kingdom will be nominated to attend by nine regional Lord Lieutenant offices. The couple has asked that the people chosen are from a broad range of backgrounds and ages, including young people who have shown strong leadership, and those who have served their communities.
The wedding will be even more special because Markle is getting ready for the big day with an epic bachelorette party (which I'm sure will make headlines); Ed Sheeran is rumored to perform "a few songs" at the royal ceremony; and afterwards, everyone over 21 can pub crawl over to Windsor & Eton for a swig of the couple's pale ale.
Now, if we could all band together to buy some "Just Married" jackets, that'd be totally badass.