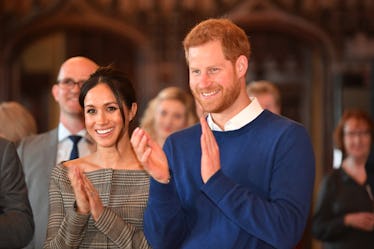 Here's How The Public Can Get Tickets To Meghan Markle & Prince Harry's Wedding
WPA Pool/Getty Images Entertainment/Getty Images
Just because you're not a royal doesn't necessarily mean that you won't get the opportunity to be invited to a royal wedding. Meghan Markle and Prince Harry announced that they will be inviting 2,640 people to the Windsor Castle on May 19 as their wedding ceremony takes place. Let me make that a bit clearer: THE ROYAL COUPLE IS INVITING EVERYDAY HUMANS OF THE PUBLIC TO THEIR WEDDING. Sorry, but that news had to be screamed, y'all. So where can you get tickets to Meghan Markle and Prince Harry's wedding if you'd like to attend? While you might think simply raising your hand and shouting, "I volunteer!" will do it, sorry, but it's going to take a lot more than that.
While it's not impossible to score tickets, there are some rules and regulations as to who exactly will get the invite.
A royal announcement was sent out Friday, March 2, that gave the stipulations as to how you can get invited to the royal wedding.
It read,
1,200 members of the public from every corner of the United Kingdom will be nominated to attend by nine regional Lord Lieutenant offices. The couple has asked that the people chosen are from a broad range of backgrounds and ages, including young people who have shown strong leadership, and those who have served their communities.
Others that will have the opportunity extended to them are "200 people from a range of charities and organisations which Prince Harry and Ms. Markle have a close association with," as well as "100 pupils from two local schools."
Lastly, there will be invites for "610 Windsor Castle community members," and "530 Members of The Royal Households and Crown Estate."
Fam, this is the real-life equivalent to Charlie and the Chocolate Factory's Golden Ticket.
Except that instead of winning a tour of a chocolate factory, you get to witness royalty history in the making. NBD.
According to People, the office at Kensington Palace had a press release regarding the invitations to the public, saying that Meghan and Harry "want their wedding day to be shaped so as to allow members of the public to feel part of the celebrations too." It also states, "This wedding, like all weddings, will be a moment of fun and joy that will reflect the characters and values of the bride and groom."
As if we didn't love the royal couple enough, now they go ahead and basically invite us personally to their wedding. (OK, if I'm being honest, you and I *probably* won't get an invite, but miracles happen.)
But hey, if you didn't get an invite, don't get your knickers in a bunch just yet, because Meghan Markle and Prince Harry announced the times of their service and their post-ceremony carriage procession, which will allow "ordinary members of the public outside the castle walls to see them." So if you can't get a ticket to their wedding, maybe just ~coincidentally~ be available and near Windsor Castle on May 19.
If you're looking for the times for all of the royal celebrations, we've got 'em. Their service will begin at 12 p.m. U.K. time (which means 7 a.m. EST, or 4 a.m. PST) and the carriage procession will start an hour later (8 a.m. EST, or 5 a.m. PST). Sure, it might be a little earlier than you'd like for a wedding, but set your alarm clocks and get over it friends, because you're not going to want to miss it (even if it means you're not a guest and instead are watching it from the comfort of your bed).
Who knows... maybe there's still time to get on Meghan Markle or Prince Harry's good side and score a ticket. It can't hurt to try, right?
With just a few months left until the royal celebration, you better act fast, so if anyone has Meghan and Harry's number on speed-dial, hit me up.