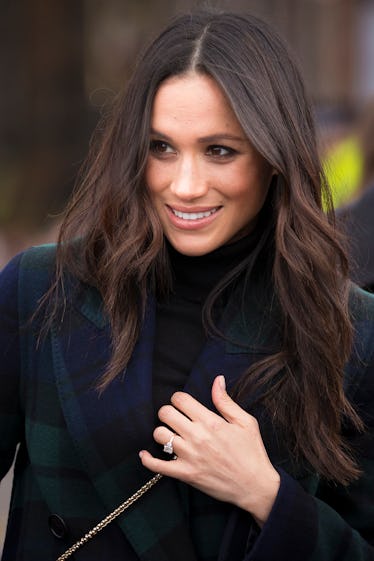 Meghan Markle Dished On Some Bachelorette Party Details & We Wish We Were Invited
WPA Pool/Getty Images Entertainment/Getty Images
Apparently, even royals get to go out and celebrate with their friends before they officially tie the knot. While I doubt that the level of debauchery will be as high as the average person's bachelor or bachelorette party, it's still nice to know that Meghan Markle and Prince Harry are still planning on doing something before saying "I do" to one another. And, according to People, Markle revealed some deets on her hen party, which is making me both extremely excited and incredibly jealous. Meghan Markle's Bachelorette Party is basically all set and now I'm wondering if we'll get to know all the important stuff. Will it be held in London? Is Kate Middleton going to attend? Will she wear one of those bachelorette sashes? (That last one is doubtful, IMO.)
During her visit to Edinburgh with Prince Harry, Markle reportedly revealed to a greeter named Tom Martin that her bachelorette bash is all taken care of. Martin told People,
We asked them what they were doing for their stag and hen dos ... Meghan said, 'I'm not sure—it's sorted but it will be fun.'"
I think "fun" is an understatement, Meghan. Your bachelorette party is probably going to be Hangover-level epic.
OK, so maybe there won't be any tigers. Or a stolen cop car. Or Mike Tyson. But still epic in its own right.
And, while Prince Harry didn't divulge any details about his stag party, Martin told People, "I'm sure William's got something up his sleeve."
Hm. Maybe William will make sure there are tigers for at least a portion of Harry's bachelor party.
While we may never know all the glorious details of Prince Harry and Meghan Markle's bachelor and bachelorette parties, we at least do know all the details about the royal wedding, so God bless small victories, amirite?
The couple will exchange vows at St. George's Chapel at Windsor Castle on on May 19, and then will take the traditional horse-carriage ride through the streets of Windsor, followed by a reception at St. George's Hall:
For those who want to see exactly where the royal couple will be throughout their wedding day, you are so not alone (honestly, if you don't care about their itinerary, who are you?):
I'M SO EXCITED I CAN HARDLY BREATHE.
While us mere ~civilians~ won't be able to attend, it seems like a lot of celebs will be on the guest list, and fans are hoping that there might even be a special performance from singer Ed Sheeran.
Back in late 2017, Sheeran told reporters that he'd be interested in playing for the royal couple's wedding, responding with, "Yeah, why not?," when asked if he'd like to sing one of his song's for Meghan and Harry's first dance.
BRB, swooning.
But let's not get ahead of ourselves here, because Sheeran told ET's Keltie Knight that he barely knows Harry at KIIS-FM's iHeartRadio Jingle Ball Presented by Capital One. He said,
I get asked this all the time like I know the royal family. I've met Harry once! [And] that was in 2011 at his grans' Jubilee, and it was like, 'Hey.' 'Hey'... I barely know him!
You know what? I'm not even going to front: Meghan Markle and Prince Harry can do absolutely no wrong, and I'm sure that anything they have at their wedding will be absolutely perfect.
In my opinion, I think that because everything is currently shrouded in mystery (like who will design Meghan Markle's wedding dress), it will make everything even more special when it all finally gets revealed in May.
But listen, Meghan: If you're looking to give us a few bachelorette details, I think I know more than a few people who will throw you the ultimate party.
Just sayin'. Hit me up, girl.