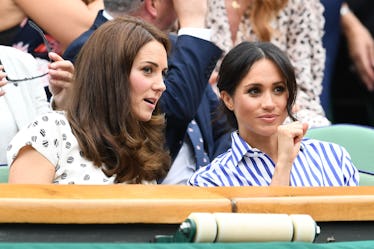 Meghan Markle & Kate Middleton Reacted To Serena Williams' Loss In A Heartfelt Way
Clive Mason/Getty Images Entertainment/Getty Images
Well, folks, it's a pretty lame day: Serena Williams lost the Wimbledon tennis championship to Angelique Kerber. What makes it particularly saddening is that the Grand Slam champion has recently spoken about her struggles on and off the court — following the difficult birth of her daughter — and she seemingly can't catch a break. But luckily, the new mom has amazing people in her corner to support her, including a couple of royals, like Meghan Markle and Kate Middleton. In fact, Meghan Markle and Kate Middleton's reaction to Serena Williams' Wimbledon loss is nothing but pure support and love.
Williams was defeated in the Wimbledon women's singles final by Kerber in a stunning two-set match on Saturday, July 14. According to The Cut, Kerber beat the 36-year-old with two scores of 6-3.
After the match, Williams gave an on-site interview that was shared on Twitter. She gave a few inspirational words of encouragement with her fans, despite being visibly hurt by the loss. She said:
I can't be disappointed. I have so much to look forward to. I'm literally just getting started. I am just me, and that's all I can be. To all the mums out there, I was playing for you today, and I tried, but Angelique played really well; she played out of her mind. I look forward to continuing to be out here and do what I do best.
During the video, both Middleton and Markle appear to be pretty emotional in the crowd. Middleton, seemingly through tears, smiles in encouragement of Williams, while the Duchess of Sussex gives her a round of applause. Check out their reactions around the 0:39 mark.
Although Williams lost the competition, there's nothing like having friends by your side to remind you of your strength and how far you've come. Just... wow.
Her hubby, Alexis Ohanian, also shared how proud he was of Williams following her loss in an encouraging message posted to his Instagram. In the message, Ohanian declared that Williams would have another trophy in the near future, and that their whole family knows it.
He wrote:
Days after our baby girl was born, I kissed my wife goodbye before surgery and neither of us knew if she would be coming back. We just wanted her to survive—10 months later, she's in the #Wimbledon final ... @serenawilliams will be holding a trophy again soon—she's got the greatest one waiting at home for her —and our family knows she'll win many more trophies, too. She's just getting started. And I couldn't be more proud.
BRB, crying.
The Wimbledon match was reportedly Williams' first final since she nearly died giving birth to her and Ohanian's daughter 10 months ago. Williams opened up about the terrifying experience in a February profile piece with Vogue, explaining that it started when doctors had to perform an emergency Caesarean section after her daughter's heart rate plummeted while Williams' was experiencing contractions. Then, while Williams was recovering from her C-section, "everything went bad." She felt short of breath and guessed she was suffering from a pulmonary embolism, based on her history of blood clots, so she reportedly told her doctors and nurses what she thought was happening.
Eventually, she was given a CT scan, and it revealed several small blood clots in her lungs. "I was like, listen to Dr. Williams!" she recalled.
Williams returned to the operating table for a procedure to prevent clotting shortly after the revelation, but that wasn't the end of her challenges: She also had to spend six weeks on bed rest to recover after her in-home nurse fell through.
It's been a tough road for Williams ever since. She lost her first match after returning to tennis back in December, and another one just over a month later. But she finally turned things around with a triumphant return to tennis in March during the Women's Tennis Association Tour.
That said, this all seems like a warm-up session for Williams. I'm sure she'll be back to her record-breaking self in no time, especially when she's got such a great support system behind her.