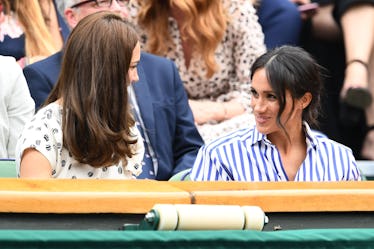 Meghan Markle & Kate Middleton Are Out Together & I'd Totally Be Their Third Wheel
Clive Mason/Getty Images Entertainment/Getty Images
It's hard to believe that Meghan Markle has been stepping out as the Duchess of Sussex for almost two months now. The former Suits actress has already proven time and time again that she's a natural during the royal family's official engagements, and I have a feeling that she owes at least some of her poise to fellow duchess Kate Middleton's tutelage. On July 14, the pair had their first solo engagement together to cheer on Markle's good friend, Serena Williams, as she faced off against Germany's Angelique Kerber, and the photos of Meghan Markle and Kate Middleton at Wimbledon are sister-in-law goals. I'm still waiting for my invite, because who wouldn't want to crash this girl power hang out?
On Saturday, the two ladies made their first solo official appearance together at the annual tennis competition, and from the looks of it, they're totally bonding. While the two duchesses were sartorial opposites at the event — The Evening Standard reports Markle went all American with her trademark messy bun as well as a striped button up and wide-leg cream trousers by Ralph Lauren, while Middleton donned a white polka-dot frock from her go-to British designer, Jenny Packam — they looked completely at ease during their first official outing without their husbands. TBH, I think a BFF situation is brewing. Here are the clues.
The most obvious one is that the women were on hand to show their support for tennis titan Serena Williams, who memorably attended Markle's May 19 nuptials to Prince Harry. While the athlete is Markle's close friend, Middleton's appearance there is the epitome of bestie goals, and I'm so here for it. I mean, what better way to show you care than by supporting someone's friends?
The sister-in-laws' body language was also really telling during the match. While watching tennis legends Nadal and Djokovic go toe-to-toe, the pair could be seen giggling together, leaning their heads in to whisper, and basically just looking like they were having the best afternoon.
It helps that they are also both avid fans of the game. Middleton, who is patron of the All England Lawn Tennis and Croquet Club, has made an appearance at Wimbledon most years since wedding Prince William. Wimbledon also carries a special meaning for Markle, who was last officially photographed at the sporting event in 2016, right around the time that she met Prince Harry. The pair were reportedly introduced by mutual friend — Violet von Westenholz — who happened to be working in PR for Ralph Lauren at the time, according to Harpers Bazaar. Interestingly enough, the publication also reports that Markle attended the 2016 tennis competition as Ralph Lauren's guest, and it's so sweet that she paid homage to the brand by wearing his design for her first official appearance at Wimbledon as a member of the royal family.
It's clear that the two duchesses have way more in common than winning the hearts of Britain's crown princes. They were both commoners who married into the royal family, and they unsurprisingly became "fast friends" during Markle's engagement. While the public seems to love comparing the two, Kate's body language at this year's Trooping the Colour celebration proves that there's no competition between the two sister-in laws. If anything, Middleton has taken the newest royal under her wing and is helping her learn the ropes of being a duchess. It looks like the mom-of-two has become a big sister figure of sorts to Markle, and it's so sweet. She even took the lead when heading to their box seats at Wimbledon.
Considering that being a duchess comes with a long list of no-no's —crossing your legs when you're sitting down, taking selfies with fans, and expressing your political views, just to name a few — it's lucky that Markle has a friend by her side to help her flawlessly navigate the murky waters of being a royal.