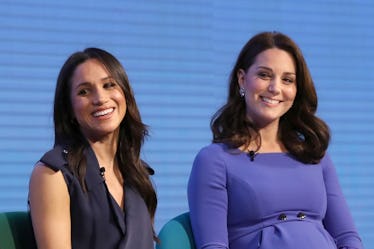 Meghan Markle & Kate Middleton's First Solo Appearance Together Will Be At Wimbledon
Chris Jackson/Getty Images Entertainment/Getty Images
Meghan Markle is definitely enjoying her life as a royal. Just two months into her marriage to Prince Harry, the Duke of Sussex, the newly minted Duchess of Sussex has been constantly stepping out on behalf of the royal family. She's been out and about with the Queen, with her husband Harry, and with other members of the royal family. And now, Kensington Palace has just announced that Meghan Markle and Kate Middleton's first solo appearance together will be at Ladies' Singles Final on Saturday, July 14. How exciting!
The two duchesses will be present to cheer on Meghan's good friend Serena Williams, who attended her wedding back in May. Williams will be going toe-to-toe with Germany's Angelique Kerber while Meghan and Kate, a Wimbledon patron, sit on the sidelines and watch her work her tennis magic.
So, it sounds like it'll be a day of tennis, girl power, and royal awesomeness.
Meghan and Williams have been friends from quite a few years now. The two reportedly met back in 2014 at a charity football game and really hit it off. They've been great friends ever since. So, it's fitting that Meghan will be there for Williams' Wimbledon run. Just like Williams was there for Meghan's wedding day!
On July 2, Williams told reporters that she wasn't sure if Meghan would be watching her play at Wimbledon. "I don't know, we'll see. If I keep winning," she said.
Well, now it's confirmed and the two friends can hopefully spare some time for a photo or two.
Kate will also attend Sunday's Gentlemen's Singles Final. No word yet on who's facing off that day, but Kate will be attending with her husband, Prince William.
Kensington Palace announced the duchesses' weekend plans via Twitter in a series of tweets. "The Duchess of Cambridge, @Wimbledon Patron, and The Duchess of Sussex will attend the Ladies' Singles Final on Saturday 14th July #Wimbledon." one tweet said.
That was followed by another tweet announcing that Kate would attend Sunday's game as well. "On Sunday 15th July, The Duchess of Cambridge along with The Duke of Cambridge will attend the @Wimbledon Gentlemen's Singles Final #Wimbledon," the tweet read.
So, it's going to be a jam-packed weekend for the royals. But at least they'll get to enjoy some good sports action.
As I mentioned, this will be Meghan's very first solo appearance with Duchess Kate. Meghan has attended several events with other members of the royal family, including the Queen. Actually, Meghan and the Queen have attended a handful of events together and they've had a blast doing it.
Like back in June 2018, when they attended the opening of Chester's Storyhouse Theatre and the Mersey Gateway Bridge. Judging by all the photos from that day, they were really enjoying themselves.
I mean, look at them enjoying a laugh together:
So cute!
Even cuter is this video of Meghan asking the Queen about a royal rule:
In the video, Meghan appears to ask Queen Elizabeth, "Who goes first?"
Surprisingly, the Queen let Meghan go first, which is so sweet.
And there was also that time Meghan asked Harry when was the right time to curtsy during the Trooping the Colour event. Some eagle-eyed fans spotted the moment and it went viral on social media.
Thankfully, Meghan has the full support of her new family while she learns the ropes of royal protocol.
If there any protocol snafus at the Ladies' Singles Final, I'm sure Kate will guide Meghan in the right direction. But Meghan's a smart gal, so I doubt there'll be any issues!