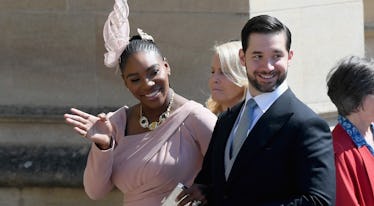 Serena Williams Is At The Royal Wedding & She's Documenting The Whole Thing On Instagram
Shaun Botterill/Getty Images
Thanks to Meghan Markle's Hollywood connections, the royal wedding between the actress and Prince Harry has become the most star-studded event of the year... and also the most exclusive invite to get! As the highly anticipated nuptials kicked off on Saturday morning, many fans were wondering which of Markle's famous friends had made the trip across the pond to watch her say "I do" to life as a royal. For instance, what about Markle's longtime friend Serena Williams: Is Serena Williams at the royal wedding? Fans were so excited to see the tennis superstar show up to watch her bestie become a princess.
Although Williams' friendship with Meghan Markle is very well known, nobody was sure about whether Williams would actually be able to attend the royal wedding on Saturday, May 19 until that very day. Williams updated fans with a telling bathroom selfie, telling them to check out her Instagram stories throughout Saturday morning as she gets ready for "a friend's wedding." Ummm, understatement of the century Serena! Check out William's Instagram post below:
At the time of publishing this article, Williams still appears to be in the middle of posting her getting-ready process on her Instagram stories. Check out some of the highlights below:
And after all that preparation, Serena Williams graced us with some photos of her final look for the big event, alongside her husband Alexis Ohanian and the couple's daughter Alexis Olympia Ohanian Jr.:
After taking their pics, Serena Williams and her husband arrived at Windsor Castle for the big event.
Ahead of the wedding of the year, Williams played it coy about whether or not she would make an appearance to support her friend Meghan Markle. The two met and sparked up a friendship in February of 2014 at DIRECTV's eighth annual Celebrity Beach Bowl, which pits celebrities and famous athletes against one another in a televised flag football match.
Since that day, Meghan Markle has been vocal about her love for Williams, often referring to the tennis superstar as one of her closest friends on social media and in blog posts on her now-defunct lifestyle blog The Tig. Markle traveled to a number of William's tennis matches to cheer her on over the last several years, and Williams would also share her love for Markle through a few guest posts on The Tig. In a post dedicated to Williams, Markle wrote about what makes her friendship with Williams so special:
She quickly became a confidante I would text when I was traveling, the friend I would rally around for her tennis matches, and the down to earth chick I was able to grab lunch with just a couple weeks ago in Toronto ... We are both the same age, have a penchant for hot sauces, and adore fashion, but what connects us more than those things is perhaps our belief in exceeding expectations–our endless ambition.
Although Williams' friendship with Meghan Markle has been going strong for over four years now, the tennis megastar would not confirm or deny that she would be showing up at her bestie's big day... although it sounded like she would definitely be in the area. In an interview with Good Morning America a couple of weeks prior to the royal wedding, Williams hinted that she may have to miss out on the big event due to her demanding schedule:
I don't know, I think it's during one of the tournaments, I'll see if I can make it.
That comment was likely in reference to the 2018 French Open, which kicks off in Paris, France a week after the royal wedding. Although the French Open is scheduled to begin on May 27 this year — eight days after the royal wedding's date of May 19 — there were still questions that it was too close to call whether Williams could make it to the wedding during her final week of intense training for the important tennis tournament.
With all her other obligations, it was awesome to see Williams was able to make it to support her friend.