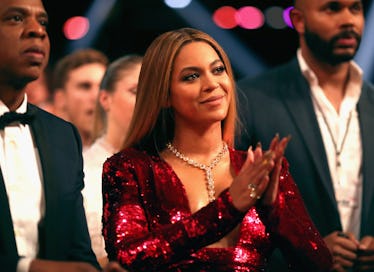 Beyoncé & JAY-Z Were Spotted Out With Twins For First Time & There Are Pics
Christopher Polk/Getty Images Entertainment/Getty Images
It's been four months since Beyoncé's twins, Rumi and Sir, were born. Four long months filled with anticipation and wonderment — just waiting for more photos of the whole clan together. Finally, the Carter family has made an appearance as an entire group. Photos of Beyoncé's twins with Blue Ivy, Beyoncé, AND JAY-Z have been taken and it's magical. Just a Carter family outing, no big deal. EXCEPT IT IS A VERY BIG DEAL. Cancel your plans, it's time for a Beyoncé update.
This is no typical family outing. Actually, this is the first time the entire fam has been seen out together since the birth of Sir and Rumi in June. According to TMZ, the Carters were heading to their new Hamptons home via helicopter from NYC. The trip is about 35 minutes by helicopter — which I totally recommend. JK, I'll be in traffic like the rest of you. Also, I don't think I can afford to go to the Hamptons. I'm just a mess all around.
JAY-Z looked bad AF with a baby carrier and Beyoncé looks effortlessly beautiful as usual. Blue Ivy is rocking a pair of adorable pink sunglasses, and the whole clan just looks fresh. Way to be, Carters.
Fans have anxiously been keeping an eye out for family photos since Sir and Rumi came into our... I mean, Beyoncé and JAY-Z's lives. Once the babies get older, if we could just get a whole family band going that would be awesome. Blue Ivy already has amazing rapping skills, so I'm sure it's in Beyoncé and Jay-Z's production agenda.
Blue Ivy is all of us, isn't she? Only five years old and already over your sh*t. You tell 'em, Blue, no one makes you wait for your helicopter.
Bey and Jay have done an amazing job keeping the twins out of the spotlight (probably good for the babies, but bad for me). The best photos we have of the twins are their newborn shots. In the early hours of Friday, June 14, Beyoncé posted the first photo of Sir and Rumi. It was (in true Beyoncé fashion) EXTRA IN THE BEST WAY POSSIBLE.
It featured Bey looking majestic AF holding the twins in a floral, kimono-type ensemble. Obviously, the twins have really unique names and there's a reason for it.
Rumi was reportedly named after the 13th century Persian poet, Jalal ad-Din Muhammad Rumi. His poetry, which has sold millions of copies in recent years, focused on love, joy, and spirituality — it was often penned to the prophet Muhammad. As far as the origins of Sir — I think we can safely assume it's because Bey and JAY-Z are basically American royalty.
JAY-Z revealed to Rap Radar on Aug. 25,
Rumi is our favorite poet, so it was for our daughter. Sir was like, man, come out the gate. He carries himself like that. He just came out, like, Sir.
There you go, straight from the source. While the twins are adorbs, we can't forget Blue Ivy. This little girl is seriously the best and she loves being a big sister to the twins.
Bey's mom, Tina Knowles Lawson, told Entertainment Tonight on Saturday, July 15 that Blue can't get enough of the twins. "She's proud and very excited," Knowles Lawson said. "She's a good big sister, she really is."
So, so cute. Whatever magic is pumping through Beyoncé and JAY-Z's veins, I'm sure their kids will inherit it, too. Talk about good genes.
It's great to see music's first family out and about. Maybe family portraits will happen soon? Keep your fingers crossed.
Check out the entire Gen Why series and other videos on Facebook and the Bustle app across Apple TV, Roku, and Amazon Fire TV.