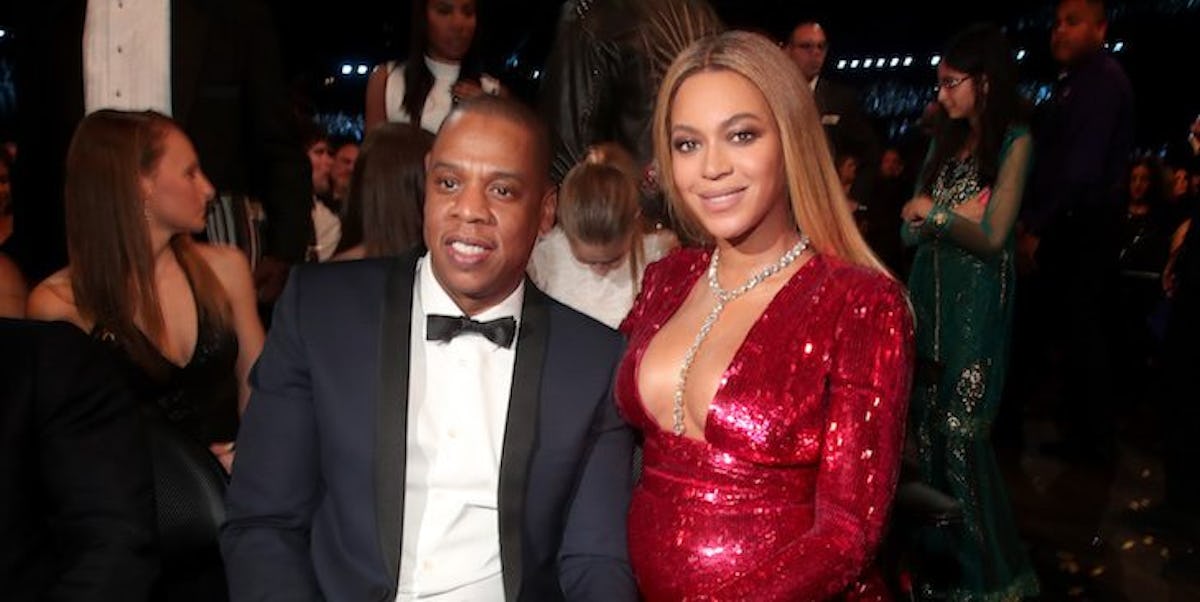 JAY-Z Just Confirmed The Rumors About Why They Named Their Twins Sir And Rumi
Christopher Polk/Getty Images for NARAS
Beyoncé gave birth to twins in June, and you are forgiven if you can't recall their names because you were too distracted by the pop singer's lush, floral, looks-like-heaven post-baby picture. But now let's take some time to focus on the little ones – starting with the meaning of Rumi and Sir Carter's names, which JAY-Z finally revealed to Tidal's Rap Radar podcast on Aug. 25.
There was a lot of speculation over the origins of those two names, the first being that Rumi was named after the 13th century Persian poet Jalal ad-Din Muhammad Rumi. His poetry, which has sold millions of copies in recent years, focused on love, joy and spirituality, and was often penned to the prophet Muhammad.
When it comes to the origins of Sir, we assumed the obvious... which is pretty much just that Bey and Jay are royalty always.
Turns out, according to JAY-Z, we weren't so far off base at all.
Rumi is our favorite poet, so it was for our daughter. Sir was like, man, come out the gate. He carries himself like that. He just came out, like, Sir.
Sir will quite possibly be the only person in the world who can pull of the name "Sir," and I'm kind of okay with that.
So is the internet-at-large.
There's definitely a pattern to the singing duo's whole baby-naming process.
After Bey and Jay's first baby Blue Ivy was born, Beyoncé posted a passage from Rebecca Solnit's novel, A Field Guide to Getting Lost on her Tumblr, which waxed poetic about the word "blue."
The world is blue at its edges and in its depths. This blue is the light that got lost. Light at the blue end of the spectrum does not travel the whole distance from the sun to us. It disperses among the molecules of the air, it scatters in the water.
So, basically, all of Beyoncé and JAY-Z's children are going to grow up to be literature-loving, ethereal gods/goddesses.
JAY-Z added that the entire pint-sized crew is going to to join him for his upcoming shows.
He said,
I booked the tour for October so I could have at least four months to just really bond and see their fingers and s--t like that." They'll be with me [on tour] anyway but I'm just saying, like, [I needed] a space where I'm not doing anything. I'm just focused on them. I'm not thinking about a show at night or anything like that. That's why the tour is so far away from the release of the album.
It's worth the wait – as long as we get at least one more picture of Beyoncé holding the babies, rocking a floral bed sheet like nobody's business.