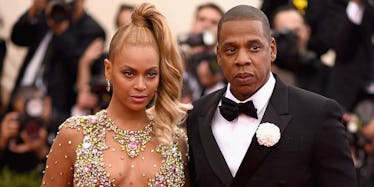 Beyoncé And JAY-Z's Twins Reportedly Have Epic Names And Twitter Is Shook
Getty Images
The day is finally here in which we know the names of our soon-to-be world leaders.
That's right, we might finally know the names of Beyoncé and JAY-Z's twins. According to TMZ, they are Rumi and Sir Carter.
Elite Daily reached out to Beyoncé and JAY-Z's reps for comment but did not hear back at time of publication.
Of course, once this news came out, Twitter started lighting up with jokes and praises.
Many people were very happy to hear the reported names of Queen Bey and JAY's twins.
Lots of Beyoncé fans were super into the name Rumi.
The name Rumi has a long history, with lots of spiritual meanings. It's present in both Indian and Japanese cultures and is largely known as the name of a famous Persian poet.
But although Rumi was getting lots of love, the Beyhive was less sold on Sir.
Sir is a little bit less of a mainstream name -- it's really known more for being a title used to refer to men. That probably explains the hesitation on that particular name.
And, of course, there were the haters who were just not into either name for the twins.
Overall, everyone should really care a lot less about their opinions on the names and a lot more about the important things.
Like that our new prince and princess, as well as our queen, are happy and healthy.
Then, of course, there are those who don't believe it 'til they hear from Beyoncé herself.
TMZ reported the twins' names based off a new legal filing. According to the site, Beyoncé and JAY-Z's company filed legal documents to secure the rights for the names Rumi Carter and Sir Carter.
They filed those trademarks for fragrances, cosmetics, key chains, baby teething rings, strollers, mugs, water bottles, hair ribbons, playing cards, tote bags, sports balls, and rattles, TMZ reported.
So at the very least, it looks like there are some plans in place.