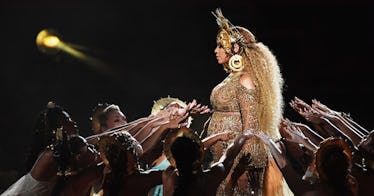 Beyoncé Reportedly Gave Her Baby Twin Boy A Super Unique Name, And It's Royal
Kevin Winter/Getty Images for NARAS
DROP EVERYTHING YOU'RE DOING RIGHT NOW AND LISTEN UP: the Carter twins' names are here.
TMZ has just reported that Beyoncé and JAY-Z named their twins Rumi and Sir. They apparently just filed legal documents to secure rights to the twins' names.
The gossip site says the trademarks are good for everything from cosmetics to novelty items to baby items like strollers and teething rings.
I can picture it now: Sir Carter watches. Rumi Carter tote bags. Mugs with their silhouettes splashed across the ceramic. They'll have a royal empire of their own -- and they'll learn it all from their parents.
But that's not the only thing that makes them basically America's royal family, Sir's name being a title of respect heard all over the English-speaking world.
Life is going to be super confusing for Sir Carter. Any time he's out, and he hears a valet or a waiter -- or, really, anyone in the service industry -- address someone else as "Sir" he'll probably turn around and be all, "What? Oh, you meant him."
But it's still really cool and reflects the royal cool of the Carter family. The honorific -- a reduced form of the Middle English "sire" -- was traditionally used to address knights and barons in England.
As for Rumi Carter, the other recent gift from Beyoncé's golden womb, that could originate from a couple of places. Rumi is apparently a feminine Japanese name meaning beauty, flow, and lapis lazuli, which, hello, that is Blue Ivy's territory, thank you. Alternatively, it could come from the famous Persian poet Rumi, whose mystic poems on love and God are some of the most-read in the world.
The reveal -- which has not been confirmed by the couple or their reps -- comes on the same day that JAY-Z's album 4:44 dropped.
And the twins are already living that royal life: they're reportedly home from the hospital, hanging out in a gorgeous mansion in Malibu.
Elite Daily reached out to Beyoncé and JAY-Z's reps for comment but did not hear back at time of publication.