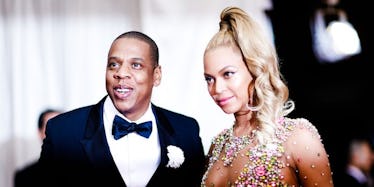 Beyoncé's Daughter's Reported Name Has Lots Of Interesting Spiritual Meanings
REX/Shutterstock
The moment the whole internet has been waiting for is actually here: We reportedly know the names of Beyoncé and JAY-Z's twins!
There have been lots of rumors about the Carter twins' names, but, according to TMZ, we can finally say hello to Rumi and Sir Carter. (Elite Daily has reached out to Beyoncé and JAY-Z's reps for confirmation, but did not hear back at the time of publication.)
Rumi is a rather unique name with lots of spiritual, historical meanings. Most significantly, it is the name of a famous 13th century Persian poet and "mystic," Jalal ad-Din Muhammad Rumi, known as Rumi for short.
Rumi is the most popular poet in the US, according to the BBC. Millions of copies of his poems have been sold in recent years.
Lee Briccetti, the executive director of Poets House, a 70,000-volume poetry library in New York City, tells the BBC that Rumi's poems "articulate what it feels like to be alive." "They help us understand our own search for love and the ecstatic in the coil of daily life."
Throughout his life as a poet, Rumi wrote tens of thousands of love songs (or poems) to the prophet Muhammad, God, and Shams of Tabriz, Rumi's spiritual teacher and advisor who played a huge role in his spiritual development.
Rumi was 37 when he met Shams of Tabriz in 1244, and he believed he only really began his life as a poet after meeting Shams, according to the Academy of American Poets.
When Shams disappeared from Rumi's life three years later (the reason why is not fully known), Rumi mourned by writing tens of thousands of lines of poetry, including eulogies, quatrains, odes, and other styles of Eastern-Islamic poetry.
Brad Gooch, author of Rumi's Secret: The Life of the Sufi Poet of Love, tells the BBC:
He's a poet of joy and of love. His work comes out of dealing with the separation from Shams and from love and the source of creation, and out of facing death. Rumi's message cuts through and communicates. I saw a bumper sticker once, with a line from Rumi: 'Out beyond ideas of wrongdoing and rightdoing there is a field. I'll meet you there.'
In addition to being a great poet, Rumi is known to be a prominent leader of religious thought. One of Rumi's most personal and renowned spiritual collection of teachings, The Masnavi-ye Ma'navi (Spiritual Verses), has been described as "the roots of the roots of the roots of the (Islamic) Religion." The BBC calls The Masnavi-ye Ma'navi (Spiritual Verses) a "spiritual epic."
Coleman Barks, a translator who helped spark a movement for Rumi's poems to become so popular in the US, believes Rumi's poetry is relevant now more than ever. He tells the BBC,
I feel there is a strong global movement, an impulse that wants to dissolve the boundaries that religions have put up and end the sectarian violence.  It is said that people of all religions came to Rumi's funeral in 1273. Because, they said, he deepens our faith wherever we are.  This is a powerful element in his appeal now.
In addition to being the name of a Persian poet, Rumi also means "beautiful woman" in its Bengali origin. In its Japanese origin, it means "beauty, flow, lapis lazuli" (the lapis lazuli is a blue opaque stone that symbolizes wisdom and truth).
Leave it up to Bey and JAY to really load on the symbolism, you guys.