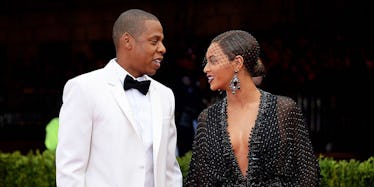 Shawn And Bea? Beyonce And Jay-Z Should Have Used These Names Instead
Mike Coppola/Getty Images
Everyone can rest easy, Beyoncé and JAY-Z have saved 2o17. Their beautiful baby twins have finally arrived and the world is just catching the first sound of their names.
According to The Hollywood Gossip, a source at the hospital reportedly says Bey and Jay named their new son and daughter Sean and Bea, respectively. However, other outlets are reporting their son's name is actually Shawn Jr.
Let me be the first to say I love it. It's a triumph. They're the world's most perfect names. Of course, this is still just a rumor. Elite Daily reached out to Beyoncé and JAY-Z's teams for confirmation, but did not hear back by time of publication.
That being said, DID ANYONE GUESS THAT?!
Here are all the other names we would have guessed first.
The obvious guesses
Sure, everyone's favorite joke to make is that Queen B would have memorialized Destiny's Child OR that they would have stuck with the primary color's theme, making these our first four guesses...
1. Michelle
2. Kelly
3. Red
4. Yellow
The music-themed guesses
They could have gone the music route, picking names that represent their respective careers or musical influences.
5. Lemonade
6. Sasha
7. Hov
8. Brooklyn
9. Serena (you guys know what I'm talking about.)
10. Halo
The cliché celebrity baby name guesses
Sure, sure... Bey and Jay are so much more than your average Hollywood stars, but they are celebrities. This means they aren't immune to picking weird AF baby names. They totally could have decided on any of the following and we would have been like, "Yup. Makes sense. We love it. More of that."
11. Award Season
12. Heiress
13. Power
14. Fancy
15. Crystal
16. Mic Drop
The family name guesses
This is a trick question category, since they literally might have named their children after themselves. BUT! Here were our familial guesses none the less.
17. Carter Carter
18. Tina
19. Queen
20. Gloria
But look at the end of the day, who do we think we are? Beyoncé and JAY-Z or something? WHAT DO WE KNOW?! NOTHING!!!
Welcome (maybe) Shawn and Bea! We love you!