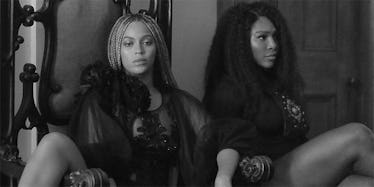 Serena Williams Absolutely Crushed Her Cameo For Beyoncé's 'Lemonade'
Serena Williams got in formation on Saturday night and killed it as a video vixen for Beyoncé's Lemonade.
The tennis star, who is no stranger to showing her sensual side, did exactly that in a music video for a song on Lemonade, dancing and twerking like a pro.
In an ironic twist, the video featured Beyoncé sitting on a throne-like chair -- essentially emulating Williams' latest Sports Illustrated cover -- while Williams herself did most of the dancing.
Whether or not the two stars traded places on purpose isn't clear. What's for certain is people were loving Serena's cameo.
Is that you, @serenawilliams? #LEMONADE pic.twitter.com/xFJtOd5nBq — People Magazine (@people) April 24, 2016
Safe to say, Serena absolutely crushed it.
Here's the full music video Serena made a cameo in. The song's titled "Sorry."