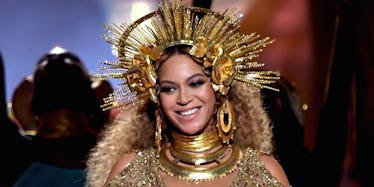 What Do Beyonce's Twins' Names Mean? Fans Are Freaking Out On Twitter
Getty Images
BLESSED BE THE CARTER FAMILY. THEY HAVE BROUGHT THE SAVIORS OF THE UNIVERSE INTO THE WORLD, AND NOW WE HAVE BEEN BLESSED WITH THEIR NAMES.
Beyoncé, JAY-Z and Blue Ivy Carter recently welcomed the twins and I haven't stopped sobbing ever since.
OK, fine, I haven't stopped sobbing since Beyoncé announced her pregnancy on February 1. She is my lord. She is my light. She is my savior.
And now, there are rumors about the names of the twins, so fans are wondering what those names mean.
I'm not going to ask if you're ready for this, because no one is.
The names of the twins are... Kelly and Michelle.
LOL JK. I'm sorry, but I had to make that joke. OK, moving on.
The REAL names of the twins are... Bey and Yoncé.
I'M SORRYYYYYY.
The REALLLL names of the twins are... Red and Green.
THAT WAS THE LAST ONE, I SWEAR.
I'VE BEEN WAITING A REALLY LONG TIME TO MAKE THESE JOKES.
Hollywood Gossip reports the spelling is Sean, however, according to Hollywood Life, it's spelled Shawn, after JAY-Z's real name, Shawn Carter.
The outlets report their daughter's name is Bea, after Beyoncé's nickname.
Elite Daily reached out to Beyonce and JAY-Z's teams for confirmation of the names but did not hear back by the time of publication.
It's pretty obvious what these names mean, since they're literally named after their parents, but ARE THESE EVEN THEIR REAL NAMES?
If they are, I'd like to point out that my second guess was pretty freakin' close!!!!!
Bey... Bea... the difference doesn't matter. She still named the baby girl after herself!!!! I WAS RIGHT!!!! I'M CLAIMING THIS VICTORY!!!!
Fans are now reacting to the news on Twitter, the BeyHive's one true home.
I am not OK. I have never been OK. I will never be OK. THIS IS THE END OF ME.
Beyoncé and JAY-Z literally named their twins after themselves. That's some kind of twin-ception. I'm done.
Congratulations, Queen Bey, you and JAY-Z have singlehandedly saved bees from extinction. You did that.