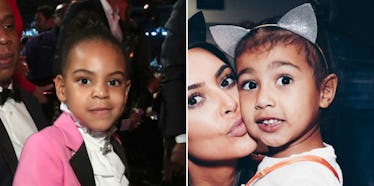 Twitter Lit Up With North West Memes After Hearing Blue Ivy's Freestyle Rap
Christopher Polk/Getty Images for NARAS and Rich Fury/Forum Photos via Getty Images
It was only a matter of time before we got here, folks. Blue Ivy has officially started rapping.
On JAY-Z's bonus track titled "Blue's Freestyle/We Family," the 5-year-old big sister spits lyrics for a full 45 seconds. It's kind of crazy.
Sure, it's hard to understand what she is saying and I'm not entirely sure I am catching, like, EVERY reference she makes... but still. This child is literally destined to take over the universe, so we might as well all get on board.
You can listen to her fire track here:
To the best of the internet's understanding, here are her lyrics according to Genius:
Everything everything this my only single thing / Everything I hear is my answer / And if you think I say, then [?] / I never hear that, I be in the posse / Never seen a ceiling in my whole life / Everything I seen, everything is rotten / Never sit in silence [?] Carter / Innocent we seek them / I and say we see them [?] / Boom shakalaka / Boom shakalaka / Boom shakalaka / Boom shakalaka / Everything in shaka / Everything in faka / Everything in shaka / Everything in faka
Right, right, right, cool, cool, cool.
Of course, we have one question and one question only – North West, girl, you gonna let her finish?
Twitter exploded with North West memes, wondering what she and dad Kanye West might be thinking.
God, can't a girl LIVE?
This kind of media feedback probably stems from the super obvious feud going on between dad's Kanye West and JAY-Z.
After West stopped a concert to rant about JAY and wife Beyoncé, JAY shot back with lyrics on his "Kill JAY-Z " track saying,
But you ain't a saint, this ain't kumbaye / But you got hurt because you did cool by Ye / You gave him 20 million without blinking / He gave you 20 minutes on stage, fuck was he thinking? / "F-ck wrong with everybody?" is what you saying / But if everybody's crazy, you're the one that's insane
Ok, everyone.
Play nice, and let's let the girls work this one out on their own.