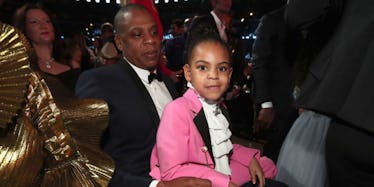 Blue Ivy Freestyles On JAY-Z's Bonus Track, Proves She's A Child Prodigy – LISTEN
Christopher Polk/Getty Images for NARAS
JAY-Z is releasing new bonus tracks from his 4:44 album, and Blue Ivy LITERALLY HAS A FREESTYLE RAP IN ONE OF THEM.
As if we needed any proof whatsoever Blue Ivy was going to be a goddamn musical genius, we now have physical evidence the music gene is engrained directly into Blue's DNA.
The song is called "Blue's Freestyle/We Family." In it, She raps, "Never seen a ceiling in my whole life/Boom shakalaka, boom shakalaka/everything in shaka, everything in faka."
I literally don't know what any of this means, but I don't care.
Her lyrics might not make any sense, but her rhythm is f*cking INSANE. How is a 5-year-old this good at staying on beat?! How is a 5-year-old this good at freestyling?!
Oh, hahahahaha. Right. I forgot. It's because her mother is literally Beyoncé and her father is literally JAY-Z.
4:44 is available on iTunes as of July 7, and the album has already gone platinum. The new bonus tracks come on the physical copies of the CDs, though, so if you want to own the Blue Ivy freestyle forever, you'll have to buy the CD.
Or, you know, download it illegally like everyone else does.
The other bonus tracks are the songs played in the promo videos that starred Mahershala Ali and Lupita Nyong'o, "Adnis" and "ManyFacedGod." (Is JAY-Z a Game of Thrones fan?! I'm gonna throw up.)
"Adnis" is the name of JAY-Z's father, so that song is probably about JAY-Z's father. The full visuals for "Adnis" and "ManyFacedGod" are reportedly going to drop today at 4:44 p.m., because the Carters are nothing if not consistently on-brand.
The internet is collectively sobbing over Blue's solo debut.
WELCOME, BLUE. WE NEVER DOUBTED YOU WERE TO BE THE MUSIC HERO WHO WOULD SAVE US ALL.
I'm seriously considering getting "everything in shaka, everything in faka" tattooed all over my body.
I have no idea what it means, but I imagine it's the magic words that open the Illuminati temple of which Blue Ivy presides over, so it could come in handy one day. I feel like this is the plot of National Treasure 3.
Also, the line "Never seen a ceiling in my whole life" has me weak. This girl is 5 years old and she has more confidence in her right pinky finger than I've ever had in my whole life.
I am nothing. Blue Ivy Carter is everything. She shall lead Rumi and Sir Carter on the path of pure child prodigies.
When Rumi and Sir are 4 years old and Blue Ivy's 9, she'll probably be running Roc Nation Records and will be the writer, producer, and engineer behind their debut album.
Nothing like a child prodigy to make you feel like you've done absolutely nothing with your life!!!