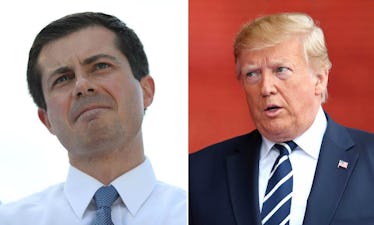 Pete Buttigieg's Quotes About Donald Trump Will Convince You That Trump Has Met His Match
Joe Raedle/Getty Images News/Getty Images, Chris Jackson/Chris Jackson Collection/Getty Images
You know of Pete Buttigieg by now, right? Since announcing a White House bid earlier this year, the South Bend, Indiana, mayor has gone from political obscurity to a media sensation. He's garnered attention for everything from his interesting policy proposals to adorable tales of his courtship with hubby Chasten. But his true breakout moments tend to involve President Donald Trump. Whether he's snubbing Trump's age or blasting the president's bone spurs diagnosis, Buttigieg has earned quite a reputation for making wild comments about his 2020 rival. Let's go ahead and look at five of Pete Buttigieg's quotes about Donald Trump, because they're too good to miss.
They'll probably be funny to see because ever since Trump won the presidency back in 2016, he's come to be known for his verbal slap-fights and fiery tweets, aimed at Democrats and Republicans alike. He's lashed out at everyone from President Barack Obama and the late Republican Senator John McCain to Vice President Joe Biden and Senator Lindsey Graham. While many people have shied away from the drama, it appears that Trump has finally found a match in Buttigieg.
Check out these five instances where the budding politician has sounded off on the president with some Trump-like sass.