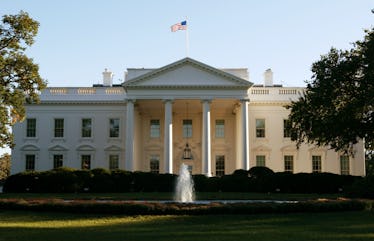 These Are All The Democrats Running In 2020, So Get Ready
Alex Wong/Getty Images News/Getty Images
Election season can be a stressful time for many of us, but it's looking like 2020 might be the most suspenseful time yet. At this point, its no secret that Democrats have been eagerly waiting to take on President Donald Trump in the 2020 presidential election. So, as the number of prominent Democrats continue to announce their presidential run, it's becoming clear that the next election season is going to be one for the books. If you're like me, you might start feeling overwhelmed with the number of presidential nominees popping up. So, who are the Democrats running in 2020? Here's the rundown.
Trump's presidency has been a controversial one to say... the least. Since taking office in the White House, Trump has gone head to head with Democrats over various issues, including border security, LGBTQ+ protections, immigration, and health care. Judging by the number of Democrats announcing plans to challenge Trump for the presidency in 2020, it appears that tensions between Trump and Democrats will reach all new highs. However, it's still up in the air who is just teasing the idea, and who is really planning on stepping up to the plate come 2020.
So, who are the brave faces running for president next year? While some are still working on exploratory committees, others have officially announced their run for president. Meet your Democratic candidates, and check this space again for updates. I can guarantee this list will only grow.