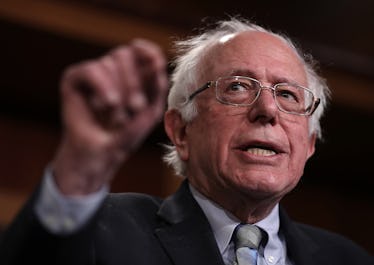 Bernie Sanders Is Running For President Again, & Twitter Already Has Thoughts
Win McNamee/Getty Images News/Getty Images
Is second time the charm? With any luck, it will be for Sen. Bernie Sanders (I-Vermont) who announced on Feb. 19 that he's making another run for the White House. Of course, the news has garnered mixed reactions, but for many, this is a day that they saw coming. Seriously, these tweets about Bernie Sanders' 2020 presidential announcement are total déjà vu.
Ending months of speculation that he would seek the 2020 Democratic presidential nomination again after losing to Hillary Clinton in 2016, the Independent senator announced his campaign on Tuesday with a video shared to Twitter. In it, he once again made his case on tackling climate change, raising the federal minimum wage, providing universal health care and more — ideas that he has long championed for and have since become largely embraced by the Democratic party. "If we are prepared to stand together, there is no end to what the great people of our nation can accomplish," he concluded.
Many social media users have apparently been waiting on this announcement for ages, because they can't stop raving about the news or the precedent he's set so far.
"I've been waiting for you [Sanders]," one person wrote.
"Bernie Sanders being back for the presidential run means that all hope is restored," another person tweeted.
Apparently, Sanders just isn't happy with the way things have unfolded in the United States. In a Feb. 19 interview with CBS News, he called President Trump a "pathological liar," as well as a racist, sexist, and xenophobe, saying:
It is absolutely imperative that Donald Trump be defeated because I think it is unacceptable and un-American — to be frank with you — that we have a president who is a pathological liar, and it gives me no pleasure to say that, but it's true. We have a president who is a racist, who is a sexist, who is a xenophobe.
The White House did not immediately respond to Elite Daily's request for comment on Sanders' remarks.
But he also stressed that his campaign is more than just replacing Trump. In an email shared with Huffington Post, Sanders wrote, "Our campaign is about transforming our country and creating a government based on the principles of economic, social, racial and environmental justice."
Whether you're feeling the bern or not, you've got quite the list of candidates to choose from. Among those who have announced presidential campaigns are senators Amy Klobuchar (D-Minnesota), Elizabeth Warren (D-Massachusetts), Cory Booker (D-New Jersey), Kamala Harris (D-California) and Kirsten Gillibrand (D-New York). Other candidates include representatives Tulsi Gabbard (D-Hawaii) and John Delaney (D-Maryland), Venture of America founder Andrew Yang, Indiana Mayor Pete Buttigieg, and Julian Castro, who served as the housing secretary under President Barack Obama from 2014 to 2017. And there could be more. It has been speculated that former Vice President Joe Biden and Texas Senate candidate Beto O'Rourke, among others, might announce bids.
What I'm saying is that, you'd better get ready for the 2020 elections. It's shaping up to be a wild ride.