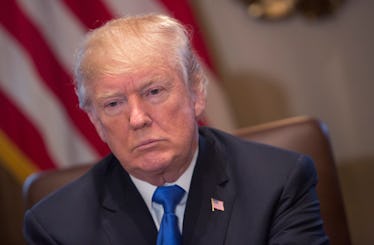 Here's What Barr's Summary Of The Mueller Report Says About Possible Obstruction Of Justice
Pool/Getty Images News/Getty Images
Well, FBI Special Counsel Robert Mueller found no evidence of collusion between Russia and the Trump campaign, according to U.S. Attorney General William Barr. It's a revelation many have been anticipating for what seems like ages, but what does the Mueller report say about obstruction of justice? Let's take a closer look at a letter Barr submitted on March 24 to the House and Senate Judiciary Committees that summarized the findings.
The note basically says that Mueller's team did not draw a conclusion about whether President Donald Trump obstructed justice. It apparently left the decision up to the DOJ, which found that the evidence submitted in the investigation "is not sufficient" to establish the president committed a crime. However, it doesn't exonerate completely. Barr quoted Mueller as writing, "While this report does not conclude that the President committed a crime, it also does not exonerate him." In an emailed statement to Elite Daily, Press Secretary Sarah Sanders says:
The Special Counsel did not find any collusion and did not find any obstruction. Attorney General Barr and Deputy Attorney General Rosenstein further determined there was no obstruction. The findings of the Department of Justice are a total and complete exoneration of the President of the United States.
The DOJ did not respond to Elite Daily's request for comment regarding the letter and "complete exoneration" by the time of publication. You can read a summary of the findings here.
When it comes to the obstruction of justice, Barr writes in the letter that Mueller's lack of "legal conclusiveness" leaves the determination to the Attorney General, and he said from there that he and Deputy Attorney General Rod Rosenstein "concluded that the evidence developed during the Special Counsel's investigation is no sufficient to establish that the President committed an obstruction-of-justice offense."
For obvious reasons, people weren't so moved by this and quickly took to social media to call for the full release of the Mueller report. But considering there's no rule saying that it has to be made public, it's unclear whether that will ever happen. Elite Daily reached out to the DOJ for comment on whether the report will be released, but did not immediately hear back.
The long-awaited end to this investigation came nearly two years after Mueller was chosen to lead the probe. Since, it has nabbed six of the president's former associates, including his national security adviser, his lawyer and fixer, and his campaign chairman. It has also lead to the indictments of dozens of Russian officials. And it has, perhaps most notably, earned strong criticism from the president, who has long maintained that there was no collusion between Russia and his campaign. Trump has called the investigation just about everything, from a "witch hunt" to a "hoax" to "bullsh*t." Elite Daily previously reached out to the White House for comment on those criticisms, but did not hear back.
Speaking of, Trump was quick to weigh in on the findings. He's reportedly on a getaway at his luxurious Mar-a-Lago resort with family and Kid Rock (no, I'm not kidding), but shortly after the findings were made public, he jumped on Twitter, writing, "No Collusion, No Obstruction, Complete and Total EXONERATION. KEEP AMERICA GREAT!"
Maybe he missed the part that said he isn't totally exonerated, though? In an emailed statement to Elite Daily, Press Secretary Sanders maintains that "the findings of the Department of Justice are a total and complete exoneration of the President of the United States."
We'll have to see where this goes from here (if it goes anywhere it all). It's truly been a wild one, with many twists and turns, and ups and downs, so I wouldn't touch the dial just yet.