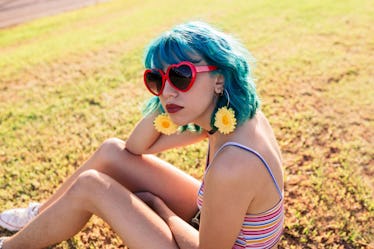 Here's How To Ask Your SO About An Open, Long-Distance Relationship
There are a number of reasons why an open, long-distance relationship might be the right move for you and your boo. Perhaps your partner will be away this summer, interning in a city far away. Maybe next semester will bring your turn (or your bae's) to study abroad. Whatever the reason, with distance now coming into play, you know that you'll be missing sex and cuddles and all physical touch. Breaking up probably isn't the right answer, but staying strictly monogamous seems incredibly challenging.
When it comes to relationships, the words "open" and "LDR" can feel a bit daunting. They can be scary because both types of relationships require a lot of trust. You have to trust that your partner is being forthcoming about who they're sleeping with and when. You also have to trust that they want to see your LDR through and will make the effort to come back to you.
Open and long-distance relationships also require a lot of communication. If you're thinking it might be a good fit for your summer or semester, there are healthy ways you can address those concerns.
Step one is to talk to your partner! If you are trying to figure out if an open LDR can work for you, then it's important that you two are on the same page — specifically about expectations. Here are the main two talking points to help guide your conversation about open LDR expectations with bae.