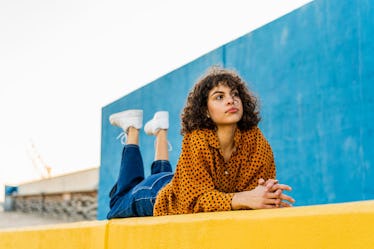 8 People Describe How Missing Their Partner Feels & It's Totally Mushy
Having been in a long-distance relationship for about two years, I can attest to the fact that missing your partner sucks. It doesn't matter if you're 1,000 miles apart or just live across town from each other. You can turn attention to other people, or pour yourself into work, school, or your hobbies. You can close the gap with phone calls, texts, sexts, and FaceTime sessions. But it's still not the same as having your boo by your side.
Often, folks who haven't had to be apart from their partner for long stretches of time don't realize just how physical a romantic relationship can be — and that's not just sexual part. Yes, it's the cuddling and the hand-holding. But it's also the warm hugs to reward you at the end of a long work week. It's kind scalp massages when you have a headache. It's someone to tangle your legs with as you read on the couch and someone to gently help you wash up in the shower.
Here are eight women and non-binary folks on what it feels like to miss a partner — sometimes sweet, sometimes agonizing, and always a reminder how deep their love for their partner runs.