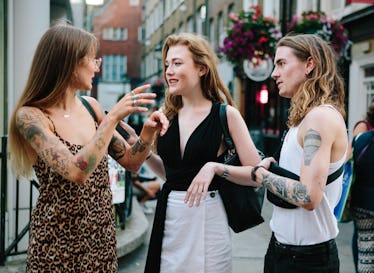 5 Ways To Handle Jealousy In Open & Poly Relationships, According To Experts
The idea of an open or polyamorous relationship can be exciting for some people — it's the giddy freedom of sleeping with whomever you want with the warm, fuzzy stability of your boo by your side. Still, while this is attractive, a little green-eyed monster might creep in at the thought of your SO going to the bone zone with other people, too. Ultimately, the question of realistic and healthy ways to handle jealousy in open and polyamorous relationships seems to be the only thing stopping folks from taking that first step — from open/poly daydream to open/poly reality.
A quick aside: There's a difference between "open" relationships and "polyamorous" relationships. As sex educator Aida Manduley put it, polyamory is when, with the consent of all people involved, you and your partner have multiple romantic relationships. An open relationship is when, with the consent of everyone involved, you and your partner get to sleep with other people — and it's purely sexual.
While poly and open relationships may be seen as "non-traditional" partnerships, the real tea is that jealousy is a big problem in monogamous relationships, too. Either way, whether you're monogamous (and curious about your potential jealous twinges) or are open/poly now (and want to nip jealousy in the bud), you definitely want to keep some jealousy coping methods in your back-pocket. Here are five that will help your open or poly relationship be as successful and healthy as possible.