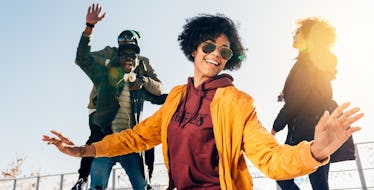 5 Reasons An Open Relationship Might Be Right For You, According To An Expert
If you find yourself feeling like your relationship is growing stale, or that you're not getting enough sexually out of your partnership — but very much enjoy your partner in all other aspects such as values and shared interests — you may want to consider the possibility of an open relationship. That way, like Hannah Montana, you too, can have the best of both worlds. Is an open relationship right for you?
An open relationship is "a relationship where there's a primary partnership of two individuals and they can both have adventures, usually just sexual, outside that 'main' relationship," sexuality educator and social worker Aida Manduley told Elite Daily.
"Polyamory is a type of non-monogamy identified by its focus on having multiple relationships with the consent of all people involved, and by its not shying away from emotional/romantic involvement," Manduley said. So, an open relationship has a "main" couple component, while a poly relationship may not necessarily have that base.
I spoke with professional life and relationship coach Laurie Ellington, who specializes in open relationships and polyamory, to understand why an open relationship is a good idea, and who it may work best for.
She says the bottom line is to "communicate, be respectful, go slow, be honest, be safe, and do onto others as you would like them to do onto you." Ellington offers her support and services to any person out there — she has global patients — who would like to dive into the world of open relationships.
It's up to you two to determine the ground rules of the open relationship: Are you allowed to have sex with your friends? Strangers only? Only threesomes with your partner present? You and your significant other can determine what you two feel comfortable with in the situation.
Read on to see what Ellington says about open relationships, and figure out if one would be right for you and your SO.