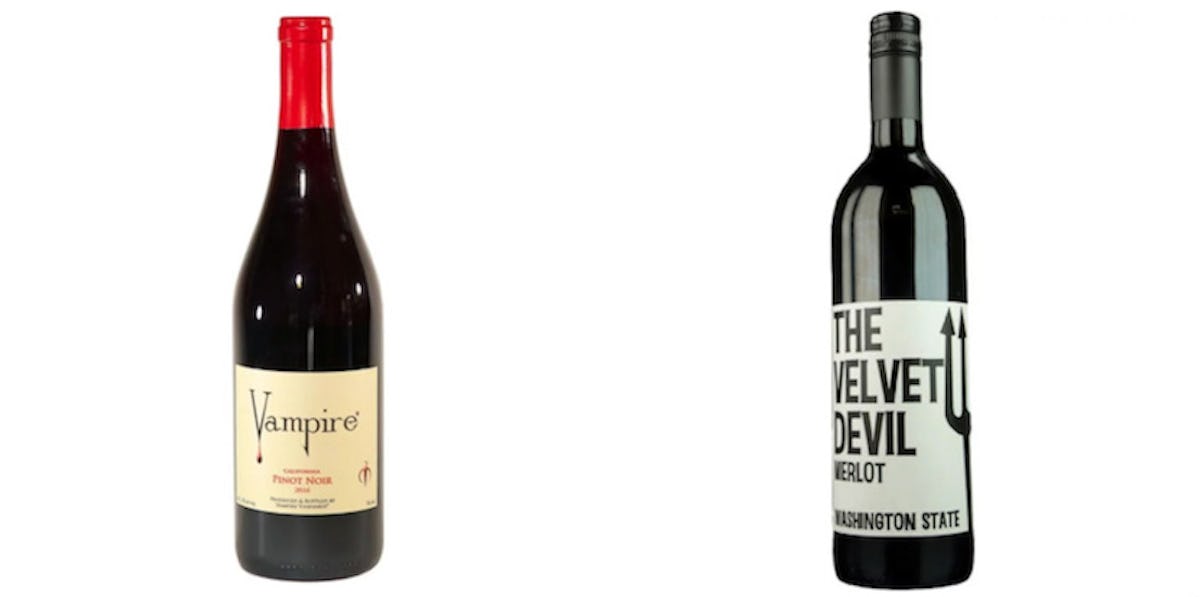 You Can Get This Halloween-Themed Wine Delivered To Your Door, So Trick Or Treat Yo' Self
Trick or treat? The answer seems pretty simple to me: Giant candy bars over everything. But, some people love to get in the spirit of the spooky season, and choose to hang with the ghosts and goblins, too. After all, there's no other time of the year when you can dress up like a vampire or sport your devil horns. You could have a scary movie marathon with your best boos in the summer, but it's just not the same. So, you make sure to celebrate in every possible way as soon as the leaves start to change color. Let me put something on your radar if you're 21 or over: Minibar Delivery will bring Halloween-themed wine to you. (Yes, you heard that right.) It's your favorite tricks combined with your sweetest treat.
More often than not, you assume that these deals are too good to be true. On any given October afternoon, you might go shopping for some oversized sweaters and see the sign for a huge fall sale. You think to yourself, "Buy one, get one free? Score," while scoping out the different knits laying on the table. There are turtlenecks that would go perfect with your new leggings, or cropped crewnecks that are more ideal for a high-waisted pair of jeans. You decide to grab one of each and try them on.
Soon enough, you realize that you need to be a part of the rewards program, or open up a credit card for the discount to be applied. Well, that's not the kind of "treat yo' self" moment you were hoping for, huh? You put everything back where you found it, and swear to never fall for such hocus pocus ever again.
Minibar Delivery's wine service won't disappoint you, though. You can have Halloween-themed reds and whites delivered right to the door of your party. Don't turn your cape on this, and make only pour decisions this spooky season, OK?
What's the scoop on Minibar Delivery?
Here's the scoop: Minibar Delivery is all about getting wine conveniently delivered to your doorstep. This is perfect for any time you're having a party and need to be stocked up on spirits, or need a bottle for a casual night with your besties. (Let's be honest: No Wednesday is complete without a few sips of wine and catching up with your crew after work or class.)
Sometimes you just don't want to roam through the aisles yourself, and this service understands that. You tend to get overwhelmed by all of the different options. You rapidly search your phone in the middle of the store, "What pairs well with chocolate and peanut butter?" (Trying to become a wine connoisseur in just a few minutes is such a tricky game to play.)
Truth is, you'd rather online shop for your wine, just like you would for your wardrobe — and wait for its arrival like an excited ghost getting ready for Halloween. Lucky for you, that's now an option, and seasonal wines are just on the other side of screen.
What kind of spooky wines can you have delivered to your door?
The best wines for your next Halloween party are inspired by witches, werewolves, and everything spooky in between. These aren't just any average cabernets, or your usual Pinot Grigio. No, these grapes have gone to the dark side, and just in time for your next get-together.
For someone who's dressing up like a vampire on Oct. 31, a bottle of Vampire Pinot Noir or Dracula Pinot Noir would probably be best. Nothing pairs better with that cape than sinking your teeth into a bold red, straight from the vineyard.
In addition, if you or one of your besties is planning on being a character from Harry Potter or a wicked witch, there's a wine for that: Phantom Red Blend or Spellbound Petit Sirah. Just like that, you're going to go from a muggle to a master of the wine arts. (Um, that's a dream come true!)
How can you make Minibar Delivery's spooky wines part of your Halloween party?
So, how can you make these wines part of your holiday? Well, first thing's first: You have to place an order. Gather up your friends and figure out which bottles would be a good fit for your guest list. When in doubt, choose a wine by the artwork on its label and be surprised by what's inside. (Any grape that's been touched by a ghost or goblin has to be good, am I right?)
Next, figure out what activities you're going to have at your Halloween party. Costume contests, painting pumpkins, and watching scary movies are all essential. But, there are a bunch of things you can do that include your favorite treat.
Take a few minutes to scroll through Pinterest and track down a recipe for mulled wine, or get a bunch of glasses you can decorate with your fellow devils and dreamy mermaids. Maybe you'll put a cute quote on yours like, "Eat, drink, and be scary," or "Creep it real." Let the paint dry, and then pass a bottle around the table. Puns and sipping on a rather spooky rosé? Sign me up!
What other essentials do you need for the spookiest party of all time?
The spookiest party of all time starts with a bottle of Halloween-themed wine, and ends up on social media. I mean, you were planning on taking pictures of your decorations and prepping your leather jacket captions for Instagram, too. You and your friends just need to do a little bit more planning to pull off an event for the books.
Together, you'll want to hit up a pumpkin patch in advance, and get a bowl for punch and another for some chocolate-covered pretzels. Learn how to make your own Pumpkin Spice Lattes for the morning of the party, and maybe plan a fall-themed scavenger hunt for during the day, too. Halloween is arguably one of the best holidays, because you're truly never bored. Between fall activities, being spooked, and themed wine — there is so much to look forward to. See, I told you: This isn't a trick — just a treat.