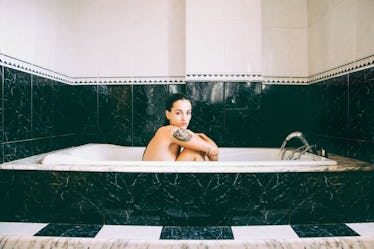 5 Places Across The Globe You Can Literally Take A Wine Bath (Yes, You Read That Right)
This year, you made a promise to yourself that you'd travel more and put some focus back on yourself. You want to hop on planes, check things off your bucket list, and find happiness in it all. You want to take a trip to another country and spend hours soaking up the culture, trying different foods, and exploring the sites. (Not to mention, sampling a new wine in every country is a must.) Well, what if I told you that you could completely disconnect from your schedule, while bathing in a bold red? There are wine spas in the world, and they are everything you've been looking for, for the ultimate self-care, treat yo' self trip (if you're 21 or over).
Personally, as soon as someone even mentions a glass of Merlot, I'm in. When you're a true wine lover, it doesn't take much convincing, and you love all the opportunities out there to get in touch with your grapes. You'll spend a casual Wednesday night with your roommates or work wife trying a new bottle and catching up on your favorite shows. Many say that cheese pairs well with wine, but I'll always be a firm believer that every romantic comedy requires a glass of rosé.
Lately, life has just seemed awfully busy, though. You'd rather get some extra sleep than crack open that Pinot Grigio. You really just need to pack your suitcase and have a relaxing getaway, complete with vinotherapy. (Yup, you heard that right.) Jet-set to one of these five spas around the world, where you can actually take a wine bath.