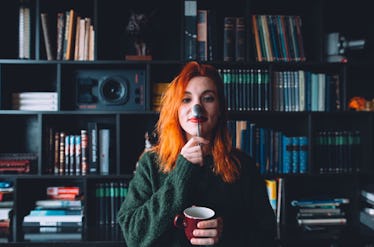 7 Fall Staycation Ideas That You & Your Wallet Will Love A (Pumpkin Spice) Latte
Let's talk about autumn. For some of us, fall is the best time of year. It means taking rides on Ferris wheels and long weekends spent in the mountains with your besties. You know that the second the leaves change color, you can break out your boots and blanket scarves. (It's been a while since you got to wear this part of your wardrobe!) Naturally, you want to soak up every part of the season (aka, take an entire week just to eat apple pies and go to pumpkin patches). If this sounds familiar, then I've gathered up some ideas for fall staycations that you and your wallet will love a (pumpkin spice) latte.
Let's be honest: You love traveling, but it's not always the best thing for your bank account. Some seasons are meant for hopping on planes and seeing the world, and others are there for saving money and staying at home. That's OK, too. And you don't miss out on any of the adventure or wanderlust, because you create it for yourself right in your backyard.
You find a way to escape the ordinary every single day by trying the new seasonal drink at the coffee shop, or taking the scenic route to work. I mean, when the fall foliage is looking this bright and beautiful, you have to choose the backroads, right? But, if you're running out of ideas for a sweet fall staycation, don't fret. These seven ideas are everything you and your wallet have been looking for.