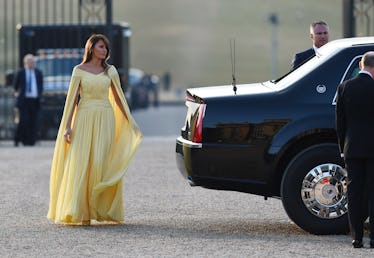 Melania Trump's Dress At The Blenheim Palace Dinner Had People Comparing Her To A Disney Princess
WPA Pool/Getty Images News/Getty Images
Isn't it every little girl's dream to grow up to be a Disney princess? Or at the very least, to look like one on special occasions? OK, even I know that sterotype is a little dated, but as someone who relishes in the opportunity to dress up, I admit to having high hopes of reaching Disney princess status when it comes to major events: my senior prom, my future wedding, virtually any event that requires me to wear a dress that touches my shoes. I've always been envious of the fictitious princesses who got to wear the stunning ballgowns of my dreams — and when I laid eyes on Melania Trump's dress at the Blenheim Palace dinner, I admit the same feelings of envy were present.
Unless you live under a rock, you're probably aware of some recent controversy surrounding First Lady Melania Trump's wardrobe choices. In particular, her decision to wear a Zara army jacket, with the words "I really don't care, do u?" emblazoned on the back, to visit an immigrant children's shelter in Texas on June 21. For obvious reasons given the horrifying happenings at the U.S. border, this was a pretty offensive choice, and the backlash was real.
It seemed Americans — Twitter users, especially — would never forgive Melania for her senseless styling choice.
Likely to make up for this major error, it seems Melania has been playing it safe in terms of fashion, wearing basic, minimalist pieces with absolutely no slogans or saying. Smart choice. But when she decided to take things up a notch by wearing a statement ballgown for a huge event at Blenheim Palace in London on Thursday, July 12, I couldn't help but note how beautiful her dress was.
The Blenheim Palace dinner is held at the birthplace of Winston Churchill, who is coincidentally one of Donald Trump's idols. It's a huge soiree, and the President and First Lady attended alongside Prime Minister Theresa May and her husband, Philip. Like her or not, Melania's floor-length gown certainly got people talking.
The pale yellow, floor-length dress is a design by French atelier J. Mendel, and the off-the-shoulder fit featured draping, pleats, and a cape that flowed after the First Lady as she walked, giving her a truly ethereal look.
Seriously, is anyone but me getting Beauty and the Beast vibes? The yellow draping, Melania's brown hair — was she going for a Belle moment?
I know you probably think I'm joking, but I couldn't be more serious. Melania is far from my favorite person, but what can I say? I appreciate a beautiful piece of couture when I see one. It's too bad Emma Watson already starred in the live-action remake of Beauty and the Beast, because clearly, Melania could've snagged the role in seconds... or at least helped with the wardrobe. Watch out, Watson, the First Lady is coming for your brand!
I'm sad to report that, while Melania was in total Belle mode, our president could not commit to their themed couples costume, and wore a standard tuxe instead of the Beast's blue and gold ensemble. Disappointing, but I can't say I'm surprised.
So how is Twitter taking the news that Melania stepped out in her Disney Princess best? Tons of users jumped at the chance to point out the similarity.
OK, so not everyone saw the resemblance...
Believe me, I'm far more concerned with our government's actions than wardobe choices, but every now and then I enjoy ooh-ing and ahh-ing over a nice dress. Only time will tell if Melania has another Disney Princess-inspired gown in the works for events to come.