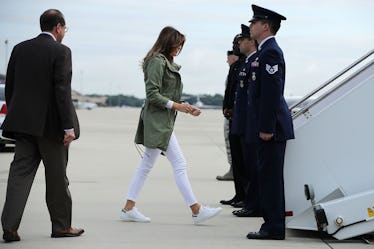 Twitter Is Turning Melania Trump's "I Don't Care Jacket" Into Memes & LOL
Chip Somodevilla/Getty Images News/Getty Images
It's nice to see that even in the face of complete crisis, the internet still knows how to have a good laugh. On June 21, Melania Trump boarded a plane to McAllen, TX to visit an immigrant children's shelter, but her outfit of choice sent Twitter into a frenzy. Well, just to poke fun at the first lady, these memes about Melania Trump's "I Don't Care" jacket will totally leave you in stitches.
Just before she jetted off to visit the shelter, photos surfaced of Trump sporting a green military jacket with the words "I really don't care, do u?" scribbled on the back. Cue the complete face palm. I'm sure the intention behind Melania Trump's Texas visit was genuine, but honestly who let her leave the house in that? To no one's surprise these photos went viral, and in classic Twitter fashion the public just had to take today's most controversial moment and turn it into the day's most hilarious memes by taking that Zara jacket and photoshopping different words on the back of it.
To be real, the Trump administration really just writes these internet jokes themselves. It's almost as if they purposely pull these stunts just to see all the memes Twitter can come up with on the spot. I have to admit, the internet truly never ceases to amaze me.
Following the photos of Trump's controversial jacket, her spokesperson, Stephanie Grisham, told CNN in a statement that there's "no hidden message" behind the ensemble.
"It's a jacket. There was no hidden message," Grisham told CNN. "After today's important visit to Texas, I hope the media isn't going to choose to focus on her wardrobe."
Some might consider this case closed. However, nothing concerning the Trump administration is ever that easy. In what appeared to be an attempt to defend the first lady, Donald Trump took Twitter to give his own thoughts on the infamous military jacket.
He tweeted,
"I REALLY DON'T CARE, DO U?" written on the back of Melania's jacket, refers to the Fake News Media. Melania has learned how dishonest they are, and she truly no longer cares!
Will we ever know the actual truth behind this mystery? I love a conspiracy theory or two, but this is getting a little bit out of hand. Even though Melania Trump's outfit faux-pas was truly horrendous, it turns out some actual good came from it. In response to the "I really don't care" jacket, Twitter users started sharing a jacket with the words "I really do care dot com," along with titles of organizations dedicated to helping immigrant families receive help and fair treatment.
The article of clothing might have stirred such huge response, but Melania Trump clearly didn't let the controversy get the best of her. On June 21, Trump took to Twitter to share photos of her visit at the shelter, and please note that the jacket is nowhere to be seen.
The recent separation of immigrant children from their families at the border has caused huge uproar among the nation. On June 20, Donald Trump signed an executive order which he told reporters will "keep families together" while also "having strong borders."
He said,
It's about keeping families together, while at the same time being sure that we have a very powerful very strong border, and border security will be equal if not greater than previously. So we're going to have strong very strong borders, but we're going to keep the families together. I didn't like the sight or the feeling of families being separated. It's a problem that's gone on for many years, as you know, through many administrations. And we're working very hard on immigration, it's just been left out in the cold. People haven't dealt with it, and we are dealing with it.
Even though this order sounds great on the surface, we shouldn't forget that prior to this there was no existing law that ordered the separation of immigrant families. Plus, nothing in the new order addresses the how fast already separated children will be reunited with their families.
These memes might be a sweet moment of hilarity, but don't let it distract you from the real problem facing us at the moment: the threat of separation facing immigrant families on a daily basis. That one isn't funny at all.